WIKA 111.11 Gas Gauge, 0-2000 PSI, 2" Dial
8611106 WIKA 111.11 Gas Gauge, 0-2000 PSI, 2" Dial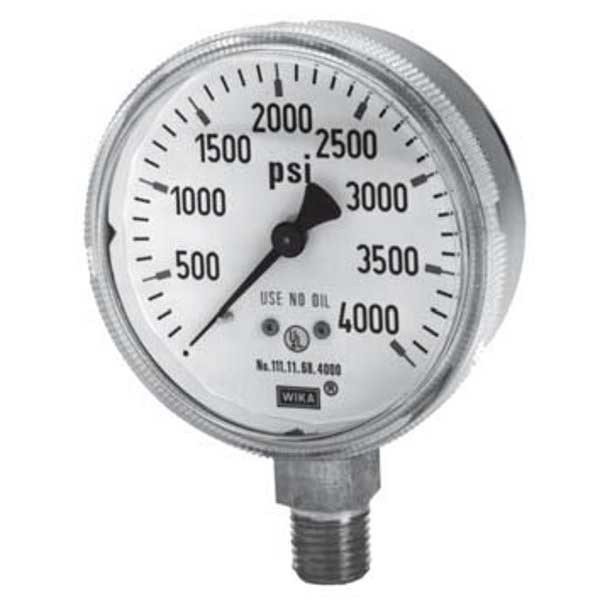 Pressure Range Type:

Standard Pressure Range

Pressure Range (PSI/inHG/IN H2O):

2000 PSI

Dial Size:

2"

Connection Size:

1/4"

Connection Location:

Lower Mount

Connection Type:

MPT

Filled:

Dry Case

Wetted Material:

Brass

Case:

Brass
WIKA 111.11 Pressure Gauge, dry case, 2" dial, 0-2000 psig range, copper alloy (brass) wetted parts, 1/4" NPT lower mount, polished brass case, 3/2/3% of span accuracy .
Browse All Model 111.11 Products
Product Description
Designed for use with compressed gases, such as those used in welding, the WIKA 111.11 pressure gauge is typically used in applications where the media does not corrode brass. This pressure gauge features a low-copper content Bourdon tube for pressure ranges of 800 psig and below, making it safe for use with acetylene. These gauges are cleaned to meet standards for use with oxygen as well.
Copper alloy wetted parts
Gold painted steel or polished brass case
Available in 1 1/2", 2", and 2-1/2" sizes
Pressure ranges from 30" Hg vacuum to 6000 psig
Dimension Drawing