WIKA 111.10 Pressure Gauge, 0-15 PSI, 2.5" Dial
8736219 WIKA 111.10 Pressure Gauge, 0-15 PSI, 2.5" Dial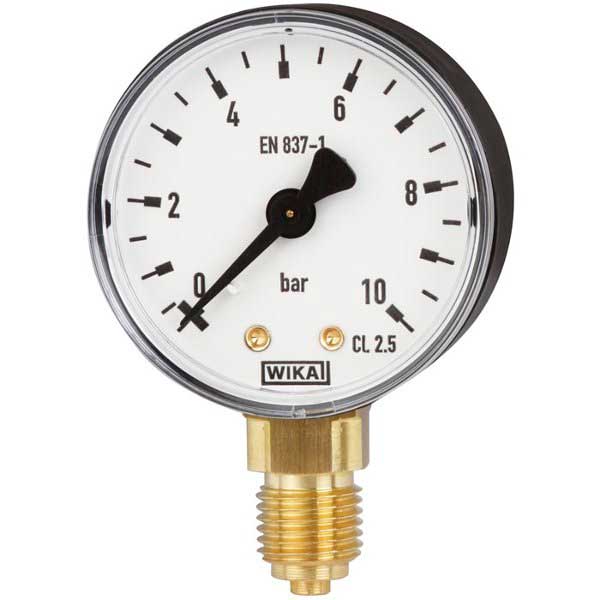 Pressure Range Type:

Standard Pressure Range

Pressure Range (PSI/inHG/IN H2O):

15 PSI

Dial Size:

2-1/2"

Connection Size:

1/4"

Connection Location:

Lower Mount

Connection Type:

MPT

Filled:

Dry Case

Wetted Material:

Brass

Case:

Brass
WIKA 111.10B Pressure Gauge, dry case, 2-1/2" dial, 0-15 psig range, copper alloy (brass) wetted parts, 1/4" NPT lower mount, polished brass case, 3/2/3% of span accuracy, psig/KPA dual scale.
Browse All Model 111.10 Products
Product Description
Designed for long, reliable service under rugged conditions, the WIKA 111.10B is typically used in applications where the media does not corrode brass. This low cost pressure gauge features a polished brass case and ring, and a coiled safety Bourdon tube for 800 psig and higher. For ranges of 1000 psig and higher, the gauge also includes a heavy-duty brass movement and a restrictor to increase resistance to pressure spikes.
Copper alloy wetted parts
Polished brass case and ring
Available in 2.5-inch size
Pressure ranges from 30" Hg vacuum to 5000 psig
Dimension Drawing