WIKA 232.53 Pressure Gauge, 0-3000 PSI, 2.5" Dial
8993160 WIKA 232.53 Pressure Gauge, 0-3000 PSI, 2.5" Dial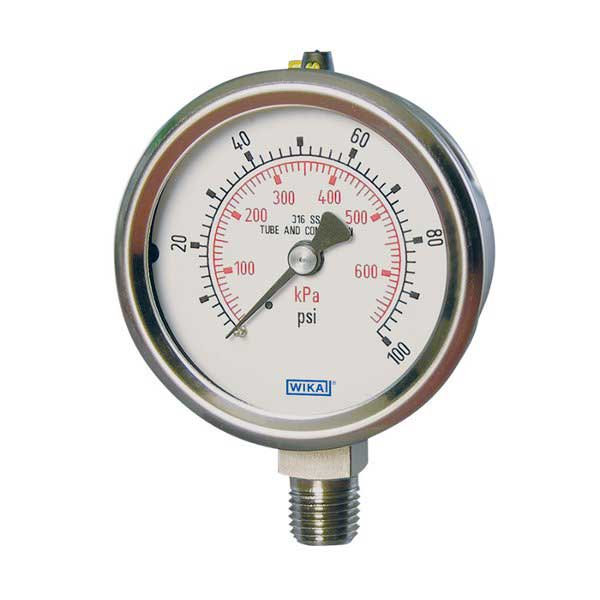 Pressure Range Type:

Standard Pressure Range

Pressure Range (PSI/inHG/IN H2O):

3000 PSI

Dial Size:

2-1/2"

Connection Size:

1/4"

Connection Location:

Back Mount

Connection Type:

MPT

Filled:

Dry Case, Liquid-Fillable

Wetted Material:

Stainless Steel

Case:

Stainless Steel
WIKA 232.53 Pressure Gauge, dry case, Liquid Fillable, 2-1/2" dial, 0-3000 psig range, 316 SS wetted parts, 1/4" NPT center back mount, 304 SS case, 1.5% of span accuracy, PSI/KPA dual scale.
Browse All Model 232.53 & 233.53 Products
Product Description
Designed for severe industrial service, the WIKA 232.53 pressure gauge is a ruggedly constructed stainless steel gauge that provides resistance to the most corrosive media and environments. This pressure gauge is field Liquid Fillable and features 316 stainless steel wetted parts and a 304 stainless steel case and crimp ring. The 2-1/2" gauge size offers a welded connection.
316 stainless steel wetted parts
304 Stainless steel case and crimp ring
Field Liquid Fillable
Pressure ranges from 30" Hg vacuum to 15,000 psig
Available in 2-1/2" (welded connection) and 4" sizes
Dimension Drawing