8F-SWB8L-PKR-G-SS-S Parker Ball Valve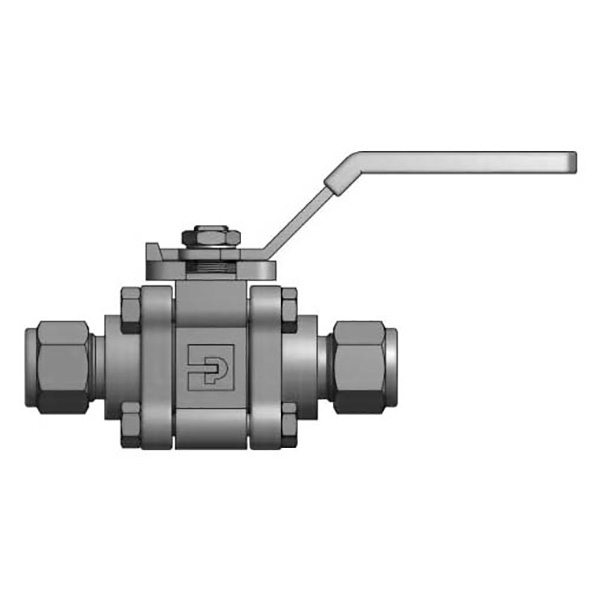 Actuation:

Oval Handle

Ball Material:

ASTM A276 316 Stainless Steel

Body Material:

ASTM A351 Grade CF3M Stainless Steel

Handle Material:

Black Vinyl Covered ASTM A276 304 SS

Seal Material:

Grafoil Gasket

Seat Material:

Virgin PEEK

Stem Material:

ASTM A276 316 Stainless Steel

Temperature Rating:

-65°F to 600 °F(Seat/Seal)

Application:

Steam/Process Line, Wash Down/Lubrication System

End Connection:

Female Threaded x Female Threaded

End To End Distance:

2.58 in.

Nominal Size:

1/2 in. x 1/2 in.

Pressure Rating:

2500 PSIG
Parker SWB8 Series Ball Valve, 1/2" x 1/2", FPT x FPT, 2500 PSIG, Stainless Steel, Grafoil Gasket Seal, Black Oval Handle, 2-Way, 3-Piece, Swing-Out, Ball Valve.
Product Description
Check Valve; Type In-Line, Poppet; Nominal Size 1/2 Inch x 1/2 Inch; Orifice Diameter 0.406 Inch; End Connection Male Threaded x Male Threaded; End to End Distance 3.16 Inch; Body Material ASTM A276 316 Stainless Steel; Cap Material ASTM A276 316 Stainless Steel; Spring Material 316 Stainless Steel; Seat Material Ethylene Propylene Rubber; Seal Material Ethylene Propylene Rubber; Temperature Rating -70 to 275 Deg F; Pressure Rating 6000 PSIG CWP, 75 PSI (Cracking); Inclusions/Features ASTM A479 Type 316 Stainless Steel Poppet; Application Uni-Directional Flow Control of Fluid and Gas, Chemical Processing, Oil and Gas Production and Transmission, Pharmaceutical, Pulp and Paper, Power and Utility, Back Flow Preventer; Hex Size 1.25 Inch; Flow Capacity 2.65 Cv
Features/Benefits
Special Seat Seal Design Provide a Repeatable High Integrity Seal and Accurate Cracking Pressure; 100% Factory Tested; Heat Code Traceable; Color Coded Identification Labels Indicate Seal Material
Series/Model Information
Parker CO Series Check Valves are designed for uni-directional flow control of fluids and gases in industries such as chemical processing, oil and gas production and transmission, pharmaceutical, pulp and paper, power and utilities. The CO Series Check Valve is particularly suitable for applications requiring high integrity leak rates and re-sealing capabilities.
Inclusions
304 Stainless Steel Packing Gland/Stem Hex/Grounding Spring, 301 Stainless Steel Seat/Stem Spring, PEEK Thrust Washer, 316 Stainless Steel Ball, Glass Reinforced PTFE Seat