Parker U12 Series Needle Valve
8F-U16LR-G-SS Parker U12 Series Needle Valve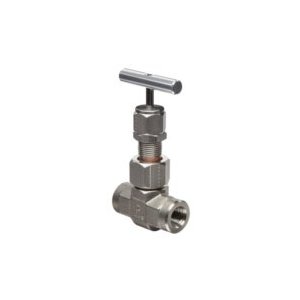 Stem Seal:

Grafoil

Stem Type:

Regulating

Configuration:

Inline

End 1 Type:

FNPT

End 2 Size:

1/2 in.

End 2 Type:

FNPT

Temperature Rating:

-65°F to 700°F (-54°C to 371°C)
Parker U16 Series Needle Valve, 1/2" Female NPT, U16L Valve Series, Inline Configuration, Regulating Stem Type, Grafoil Packing, Stainless Steel Body, Manually Operated.

Contact Our Process Control Experts
Contact our experts to answer questions or help you with your application needs.
Services
Distribution of components services
On-site inventory management
Factory Automation Services
Product expediting
Product obsolescence notifications and replacements
Kitting and packaging
Custom labeling
Related Products & Accessories
Product Description
Parker U Series Union Bonnet Valves have been engineered for use at pressures up to 6,000 (414 bar) and temperatures as high as 1,200 °F (649 °C). A non-rotating lower stem helps to extend packing life by removing rotation from the packing area. Stem packing below the threads isolates the thread lubricant from the flow, ensuring adequate lubrication regardless of the media.
Features
Union bonnet design ensures high integrity seal under severe service applications
Packing below the power threads protects thread lubricants from media and isolates the lubricants from the media
Dust seal in the packing nut protects stem threads from external contamination
Stem swivel above the packing eliminates entrapment area and increases packing life
Choice of Grafoil® or PTFE packing
Choice of Regulating or Blunt stem types. Blunt stemtype helps combat wire draw which may occur when two phase flow is present (i.e. steam service)
316 stainless steel construction
Wide variety of US Customary and SI ports
Panel mountable
100% factory tested
Dimension Drawing