Parker U16 Series Needle Valve
8PSW-U16LB-T-SS Parker U16 Series Needle Valve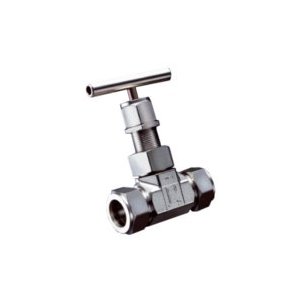 Interchanges With:

SS-12NBSW8P

Stem Seal:

PTFE

Stem Type:

Blunt

Configuration:

Inline

End 1 Type:

Pipe Socket Weld

End 2 Size:

1/2 in.

End 2 Type:

Pipe Socket Weld

Temperature Rating:

-65°F to 450°F (-54°C to 232°C)
Parker U16 Series Needle Valve, 1/2" Pipe Socket Weld, U16L Valve Series, Inline Configuration, Pipe Socket Weld, Blunt Stem Type, PTFE Packing, Stainless Steel Body, Manually Operated.
Product Description
Parker U Series Union Bonnet Valves have been engineered for use at pressures up to 6,000 (414 bar) and temperatures as high as 1,200 °F (649 °C). A non-rotating lower stem helps to extend packing life by removing rotation from the packing area. Stem packing below the threads isolates the thread lubricant from the flow, ensuring adequate lubrication regardless of the media.
Features
Union bonnet design ensures high integrity seal under severe service applications
Packing below the power threads protects thread lubricants from media and isolates the lubricants from the media
Dust seal in the packing nut protects stem threads from external contamination
Stem swivel above the packing eliminates entrapment area and increases packing life
Choice of Grafoil® or PTFE packing
Choice of Regulating or Blunt stem types. Blunt stemtype helps combat wire draw which may occur when two phase flow is present (i.e. steam service)
316 stainless steel construction
Wide variety of US Customary and SI ports
Panel mountable
100% factory tested
Dimension Drawing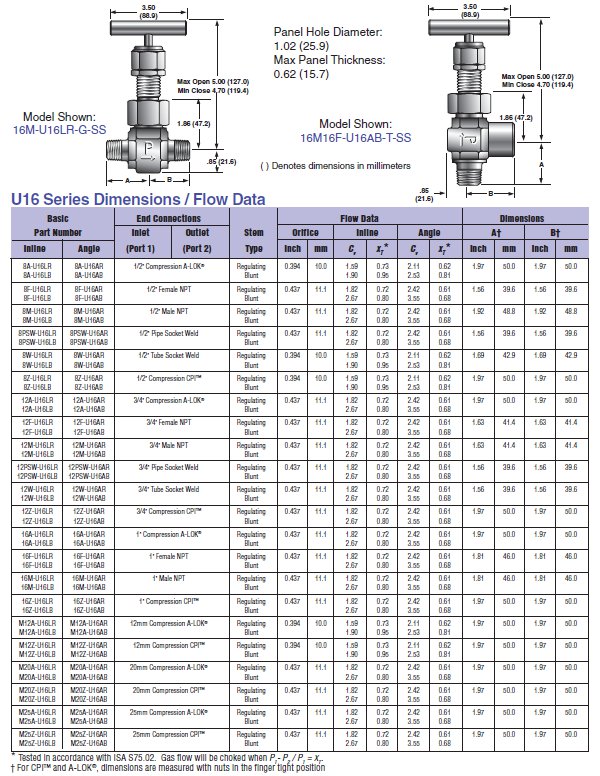 Interchange Disclaimer
Parker guarantees that all A-LOK® fittings (including A-LOK® ended valves) are of equal quality to and will perform as well as the Swagelok fitting. Parker guarantees that the A-LOK® fittings are completely interchangeable with all sizes of the Swagelok fittings and individual components of the A-LOK® fittings can be intermixed with the components of the Swagelok fitting including the new and old rear ferrule. In fact, since 1984, thousands of customers have successfully used the A-LOK® fittings in conjunction with the Swagelok fitting.