8V-B8LJ2-SS-62AC-3 Parker Ball Valve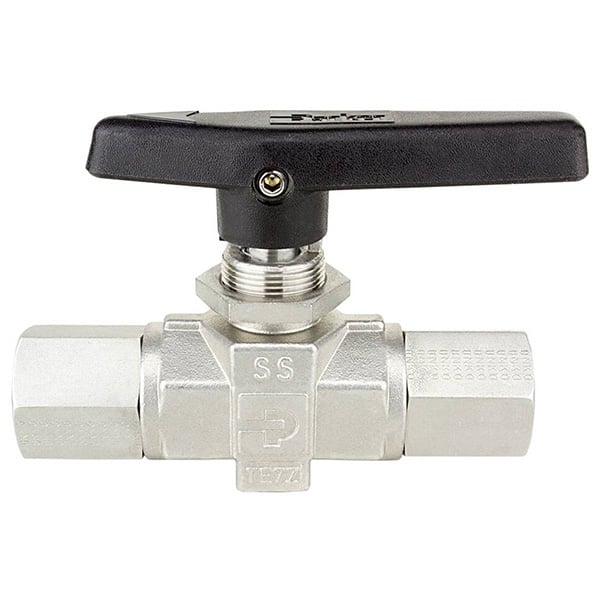 Actuator Condition:

1/4 Turn 90 Degree Normally Closed Spring Return

Actuator Dimensions:

6.77 in. L x 2.91 in. W x 4.17 in. (Single Mount)/3.15 in. (Dual Mount) H

Actuator Type:

Dual Opposed Piston, Pneumatic

Body Material:

ASTM A351 Grade CF3M Stainless Steel

End Connection:

VacuSeal x VacuSeal

End To End Distance:

4.42 in.

Flow Rate:

6.42 Cv

Nominal Size:

1/2 in. x 1/2 in.

Seal Material:

PTFE

Stem Material:

ASTM A276 316 Stainless Steel

Temperature Rating:

-65°F to 350 °F
Parker B8L Series Ball Valve, 1/2" x 1/2", VacuSeal x VacuSeal, 6000/4000 PSIG CWP, Stainless Steel, VacuSeal x VacuSeal, 1/4 Turn Normally Closed Spring Return Pneumatic Actuator, 2-Way, In-Line, Panel Mount, Ball Valve.
Product Description
Metering Valve; Type In-Line; Actuation Type Knurled Handle; Nominal Size 1/4 Inch x 1/4 Inch; End Connection Male Threaded x Male Threaded; End to End Distance 1.86 Inch; Body Material ASTM A182 F316 Stainless Steel; Handle Material ABS Plastic; Temperature Rating -40 to 250 Deg F; Pressure Rating 250 PSIG CWP; Inclusions/Features 316 Stainless Steel Bonnet Nut/Lower Stem/Orifice/Stem Guide, Mica-Filled PTFE Orifice Liner, 302 Stainless Steel Spring, Steel Wave Washer, Acetal Friction Collar, Nylon Stem Washer, Alloy Steel Stem Guide Pin/Handle Set Screw, Stainless Steel Orifice Screw, ABS Plastic Handle, Fluorocarbon Rubber Lower Stem/Orifice/Bonnet/Stem Guide O-Ring; Application Test Panel, Injection/Precision Monitoring System; Orifice Diameter 0.006227 Square Inch; Flow Capacity 0.09 Cv; Seal Material Ethylene Propylene Rubber
Features/Benefits
Bubble Tight Shut-Off; Special Fine Pitch Thread with 15 Turn Resolution is Isolated from Contact with Process Fluids; Non-Rotating/Non-Rising Valve Stem Design Provides Smooth, Non-Reversing Flow Characteristics; Special Orifice Liner Assures Long Life; 100% Function Tested for Actuation and Shut-Off
Series/Model Information
Parker HR Series Metering Valves provide the highest degree of precision metering for moderate pressure applications. A choice of seven precision ground, tapered flat, non-rotating and non-rising valve stems enable repeatable metering at flow capacities. With 15 stem turns, this valve offers the ultimate in precision flow control. This series also features shut-off capability not found in most metering valves.
Inclusions
ASTM A479 Type 316 Stainless Steel Poppet