8Z-B8LJ-SSP-OVSS Parker Ball Valve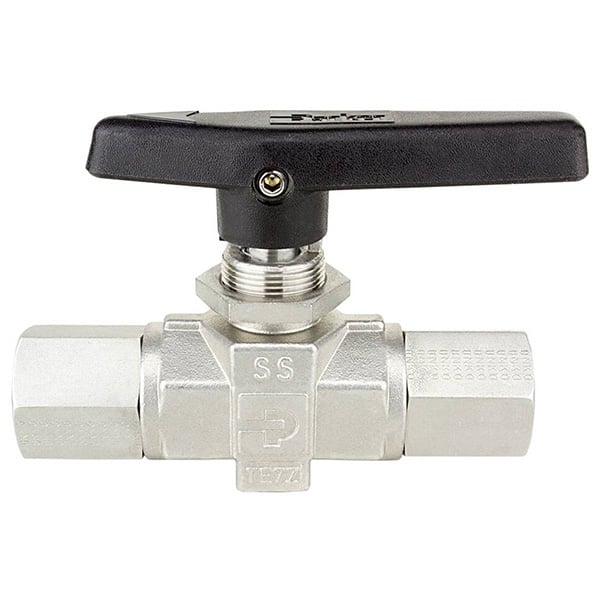 Actuation:

1/4 Turn Oval Lever Handle

Application:

Flow Diversion/Selection, Instrument Panel, Process Mixing System, Quick Fill System, Remote Shut-Off

Ball Material:

316 Stainless Steel

Body Material:

ASTM A351 Grade CF3M 316 Stainless Steel

End Connection:

CPI Single Ferrule Compr. x CPI Single Ferrule Compr.

End To End Distance:

4.68 in.

Handle Material:

Black SS

Nominal Size:

1/2 in. x 1/2 in.

Pressure Rating:

1500 PSIG

Seal Material:

PTFE

Seat Material:

PTFE

Stem Material:

ASTM A276 316 Stainless Steel

Temperature Rating:

-65°F to 350 °F
Parker B8L Series Ball Valve, 1/2" x 1/2", CPI Single Ferrule Compression x CPI Single Ferrule Compression, 1500 PSIG, 316 Stainless Steel, PTFE Seal, Black 1/4 Turn Oval Lever Handle, 2-Way, In-Line, Panel Mount, Ball Valve.
Product Description
Rotary Plug Valve; Type Straight Through Flow, Lubricated; Actuation Type 1/4 Turn Lockout Lever Handle; Nominal Size 1/4 Inch x 1/4 Inch; End Connection A-LOK Double Ferrule Compression x A-LOK Double Ferrule Compression; End to End Distance 1.92 Inch; Plug Material PTFE Coated Black ASTM A479 316 Stainless Steel; Body Material ASTM A479 316 Stainless Steel; Seat Material Fluorocarbon Rubber; Seal Material Fluorocarbon Rubber; Handle Material Black Nylon 6/6; Temperature Rating -10 to 450 Deg F; Pressure Rating 3000 PSIG CWP (Normal Flow), 150 PSIG (Reverse Flow); Inclusions/Features 316 Stainless Steel Handle Pin/Body Pin/Retaining Ring, Fluorocarbon Rubber O-Ring, PTFE Back-Up Ring; Application Control Panel, R and D Lab, Specialty Gas System, Chemical Delivery, Fill Station; Orifice Diameter 0.187 Inch; Flow Capacity 1.18 Cv
Features/Benefits
Patented Blow-Out Resistant Seat Design; Reliable Simple Design; PTFE Back-Up Rings on Atmospheric Seal; Low Operating Torque; Minimum Pressure Drop; Throttling Capability; Positive Handle Stop; Color Coded Fracture Resistant Nylon Handles with Directional Flow Indication; Easy to Service; 100% Factory Tested
Series/Model Information
Parker's PR Series Plug Valves provide positive leak tight shut-off, high flow capacity, and quick quarter-turn operation in a compact attractive package. The patented blow-out resistant seat design offers reliable sealing technology at all operating pressures not seen in general purpose plug valves. In addition to on-off actuation, the plug design allows forward flow throttling. A broad selection of valve seats and seal materials may be chosen for media compatibility and performance over a broad range of temperatures. The pressure balanced atmospheric seals are backed by PTFE rings to enhance their performance and increase cycle life.
Inclusions
PTFE Connector O-Ring/Retainer Seal/Stem Seal, 316 Stainless Steel Stem Washer/Panel Mounting Nut/Seat Retainer/Packing Nut/End Connector, Stainless Steel Handle Set Screw