Edwards Signaling Flashing Xenon Strobe
93DFG-R5 Edwards Signaling Flashing Xenon Strobe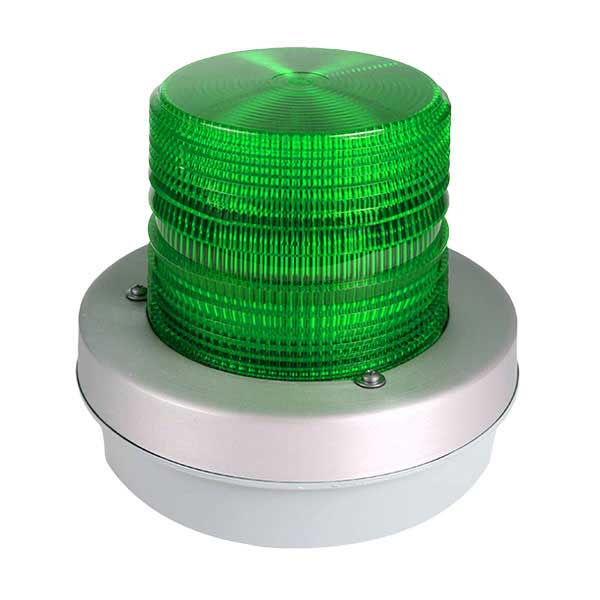 Refine Search:

Fire Safety

Product Type:

Strobes
93DFG-R5 Edwards Signaling 93 Series Flashing Xenon Strobe, cast base, double flash, suitable for indoor or outdoor applications, panel/conduit mount, green colored lens, 1100000 peak candela, flash rate 65 dfpm, 3000 hours of strobe tube life, 240/AC, 0.05 A.
Browse All 93 & 97 Series Products
Product Description
93DFG-R5 Edwards 93 and 97 Series Xenon strobe beacons are heavy-duty visual signals suitable for use where more frequent and longer lasting signaling cycles may be required. Optically designed fresnel lenses improve viewer perception for indoor and outdoor applications. The base is cast and can be utilized as a junction box. The 93DF and 97DF Series offers a double flash model that doubles the apparent strobe on-time (50 double flashes per minute). Trigger and timing circuits are included as integral parts of the power supply. Replacement costs are reduced, as it is necessary to replace only the strobe tube.
FEATURES
Xenon strobe light source
Cast base can function as a junction box
Optically designed fresnel lenses
Single and double flash models
Suitable for indoor and outdoor applications
For outdoor use, lens should face up
93 Series - 3/4" conduit mount
97 Series - panel or 3/4" conduit mounting
Operating temperature range
Dimension Drawing