WIKA 213.40 Paper Machine Gauge, 0-60 PSI, 2.5" Dial
9456210 WIKA 213.40 Paper Machine Gauge, 0-60 PSI, 2.5" Dial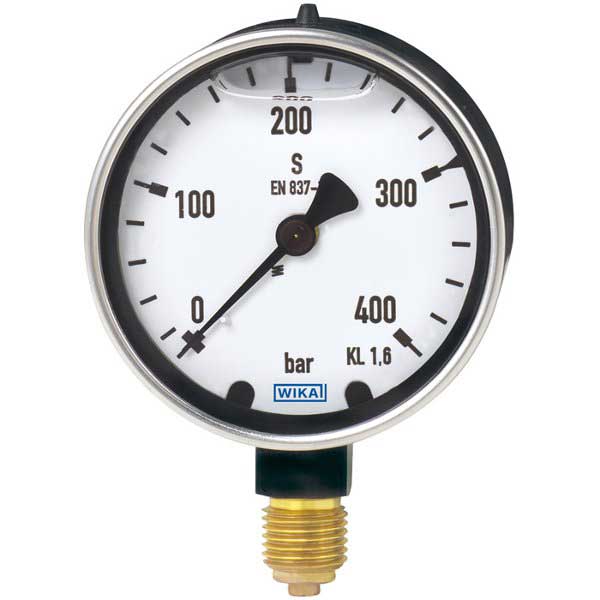 Pressure Range Type:

Standard Pressure Range

Pressure Range (PSI/inHG/IN H2O):

60 PSI

Dial Size:

2-1/2"

Connection Size:

1/4"

Connection Location:

Lower Mount

Connection Type:

MPT

Filled:

Glycerine-Filled

Wetted Material:

Brass

Case:

Brass
WIKA 213.40 Pressure Gauge, Glycerine Filled, 2-1/2" dial, 0-60 psig range, copper alloy (brass) wetted parts, 1/4" NPT lower mount, forged brass case, 1.5% of span accuracy, PSI/KPA dual scale.
Browse All Model 213.40 Products
Product Description
Offering superior service in applications where severe vibration or pulsation are encountered, the 213.40 pressure gauge is Glycerine Filled to dampen the Bourdon tube and lubricate the movement, resulting in extended life. This gauge features an integral Bourdon tube, soldered or brazed directly into a one-piece case/socket.
Copper alloy wetted parts
Forged brass case
Glycerine Filled
Pressure ranges from 30" Hg vacuum to 15,000 psig
One-piece case/socket design
Available in 2 1/2" and 4" sizes
Dimension Drawing