Barksdale Pressure Switch
96211-BB4SS Barksdale Pressure Switch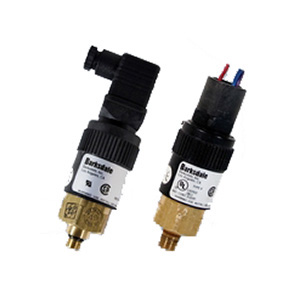 Application:

Air Proving in HVAC System, Engine Monitoring, General Industrial, Hydraulic Power Unit, Irrigation System, Machine Tool, Medical Equipment, Mobile Hydraulic, Pump and Compressor Monitoring

Approval:

CSA

Connection Type:

1/4 in. Male Threaded

Contact Configuration:

SPDT

Contact Rating:

5 A @ 125/250 VAC/30 VDC

Enclosure:

NEMA 1

Enclosure Material:

Plastic

Operating Pressure Rating:

22.5 to 125 PSI

Operator Type:

Buna-N Diaphragm/O-Ring Seal

Pressure Media:

Air

Product Type:

Pressure Switch
Barksdale 96211 Series Pressure Switch, 1/4" MPT, 125/250 VAC/30 VDC, 5 A, 22.5 to 125 PSI, SPDT, NEMA 1, Buna-N Diaphragm/O-Ring Seal, Field Adjustable, Single Circuit, Pressure Switch.
Product Description
Pressure Switch; Type Field Adjustable, Single Circuit; Operator Type Buna-N Diaphragm/O-Ring Seal; Operating Pressure Rating 22.5 to 125 PSI; Pressure Media Air; Contact Configuration SPDT; Contact Rating 5 Amp at 125/250 Volt AC/30 Volt DC; Connection Type 1/4 Inch Male Threaded; Enclosure NEMA 1; Enclosure Material Plastic; Application Pump and Compressor Monitoring, Air Proving in HVAC System, Engine Monitoring, Machine Tool, Hydraulic Power Unit, Mobile Hydraulic, Medical Equipment, Irrigation System, General Industrial; Approval CSA; Accuracy +/-2 Percent; Electrical Connection 18 AWG, 12 Inch Free Lead Wire; Process Connection Material 416 Stainless Steel; Temperature Rating -20 to 165 Deg F; Includes Secure Hex Body with Open End Wrench, Hand Turn Adjustment Sleeve
Features/Benefits
Compact size; Extremely versatile; Single pole double throw snap action switching
Series Information
The Series 96211 Pressure Switches offer a durable and versatile solution to your pressure control problems in a compact, economical package. A wide range of factory options is available in plastic, brass or stainless steel, allowing the switch to be custom configured to the exact needs of your application. With the addition of an optional conduit connector, the switch becomes watertight and bears a NEMA 4 rating. The addition of optional DIN electrical connector allows for ease of installation and maintenance. Designed to control pressures from vacuum up to 7500 psi, the Series 96201 Pressure Switches are an outstanding choice to meet your demanding industrial applications.