WIKA 232.54 Pressure Gauge, 0-400 PSI, 2.5" Dial
9694859 WIKA 232.54 Pressure Gauge, 0-400 PSI, 2.5" Dial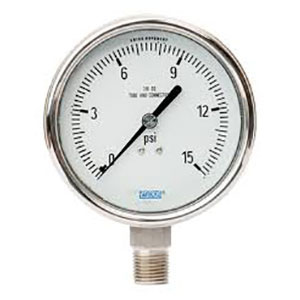 Pressure Range Type:

Standard Pressure Range

Pressure Range (PSI/inHG/IN H2O):

400 PSI

Dial Size:

2-1/2"

Connection Size:

1/4"

Connection Location:

Back Mount

Connection Type:

MPT

Filled:

Dry Case, Liquid-Fillable

Wetted Material:

Stainless Steel

Case:

Stainless Steel

Option:

Adjustable Pointer, Safety Glass
WIKA 232.54 Pressure Gauge, dry case, Liquid Fillable, 2-1/2" dial, 0-400 psig range, 316 SS wetted parts, 1/4" NPT center back mount, 304 SS case, 1.5% of span accuracy, PSI/KGCM2 dual scale, bayonet ring.
Browse All Model 232.54 & 233.54 Products
Product Description
Designed for severe industrial service, the WIKA 232.54 pressure gauge is a ruggedly constructed stainless steel gauge that provides resistance to the most corrosive media and environments. This pressure gauge is field Liquid Fillable and features 316 SS wetted parts and a 304 SS case and bayonet ring, and an adjustable pointer and laminated safety glass window. The 2-1/2" gauge size offers a welded connection.
316 SS wetted parts
Stainless steel case and bayonet ring
Adjustable pointer and laminated safety glass
Field Liquid Fillable
Pressure ranges from 30" Hg vacuum to 15,000 psig
Available in 2-1/2" (welded conn.) and 4" sizes
Dimension Drawing