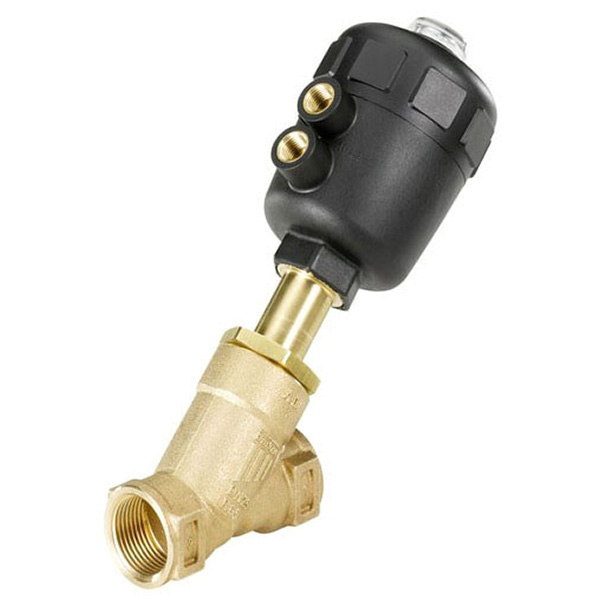 Manufacturer:

Bürkert

Product Family:

Type 2000

Applicable Standard:

CE

Body Material:

Brass

Enclosure:

IP65

Flow Rate:

237 LPM

Input Supply Rating:

24 VDC

Media Handled:

Liquid, Neutral Gas

Port Connection:

G1/4 Inner Threaded x G1/4 Inner Threaded

Pressure Rating:

-1 to 3.5 Bar

Temperature Rating:

-10 to 90°C, 55°C (Ambient)

Type:

2-Way/2-Position, Direct Acting

Valve Position:

Normally Closed

Weight:

0.88 lb
Bürkert Type 2000 Angle Seat Valve, Pneumatic Piston Operated, Single/Double Acting Piston, Classic/Robust Actuator, 2-Way/2-Position, Angle Seat Valve.
Product Description
Solenoid Control Valve; Type 2-Way/2-Position, Direct Acting; Port Connection G1/4 Inner Threaded x G1/4 Inner Threaded; Valve Position Normally Closed; Body Material Brass; Enclosure Type IP65; Input Supply Rating 24 Volt DC; Flow Rate 237 LPM; Temperature Rating -10 to 90 Deg C, 55 Deg C (Ambient); Pressure Rating -1 to 3.5 Bar; Media Handled Neutral Gas, Liquid; Inclusions/Features Fluorocarbon Seal; Applicable Standard CE; RoHS Compliant; Power Rating 9 Watt; Coil Insulation Class Type H; Orifice Size 3 Millimeter; Kv Factor 0.22 Cubic Meter per Hour
Features/Benefits
Excellent range; Very good response; Compact valve design; RoHS Compliant
Series Information
The direct-acting solenoid control valve Type 2873 is used as the regulating unit in control loops. Due to an elastomeric seat seal the valve closes tight (integrated shut-off function), up to the DN specific nominal pressure. The plunger of the valve is assembled frictionless, which leads to an extraordinary adjustment characteristic. This valve is particularly suitable for demanding control tasks (high control range, dry gases, etc.).