98109056 Bürkert Diaphragm Valve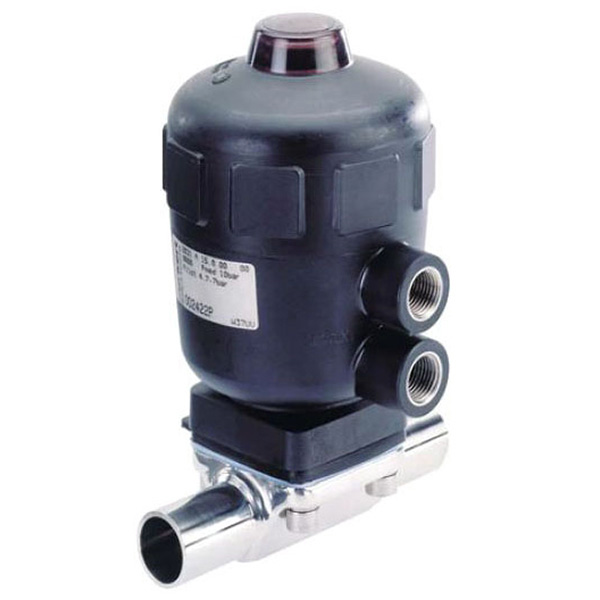 Actuation Type:

Pneumatic Operated, Classic Actuator

Body Material:

Cast 316L Stainless Steel

End Connection:

Inner Threaded x Inner Threaded x Inner Threaded

End To End Distance:

85 mm

Nominal Size:

1/2 in. x 1/2 in. x 1/2 in.

Pressure Rating:

4.4 to 10 Bar (Control)

Seal Material:

PTFE

Temperature Rating:

-10 to 180°C (Medium),-10 to 40°C (Environment)

Applicable Standard:

CE, EN-ISO 10204 2.2

Type:

3-Way/2-Position

Weight:

2.91 lb
Bürkert Type 2031 Diaphragm Valve, Pneumatic Piston/Classic Actuator, Forged 1.4404 Stainless Steel, 2-Way/2-Position, Diaphragm Valve.
Product Description
Globe Valve; Type 3-Way/2-Position; Actuation Type Pneumatic Operated, Classic Actuator; Nominal Size 1/2 Inch x 1/2 Inch x 1/2 Inch; End Connection Inner Threaded x Inner Threaded x Inner Threaded; End to End Distance 85 Millimeter; Body Material Cast 316L Stainless Steel; Seal Material PTFE; Temperature Rating -10 to 180 Deg C (Medium),-10 to 40 Deg C (Environment); Pressure Rating 4.4 to 10 Bar (Control); Inclusions/Features Transparent Cap, Fluorocarbon O-Ring; Stainless Steel Pilot Air Port/Tube/Nipple Fitting/Spindle/Plug, PTFE V-Seal/Wiper, Nitrile Rubber Cylinder Seal; Applicable Standard CE, EN-ISO 10204 2.2; Valve Position Normally Closed; Orifice Size 15 Millimeter; Installation Length 85 Millimeter; Actuator Size 50 Millimeter; Actuator Material Polyamide
Features/Benefits
For mixing or distributing of media; Controlled by a pilot valve or centrally by a valve island; Flow optimised body in stainless steel; Long life time and maintenance-free operation
Series Information
The Burkert 3/2-way seat valve Type 2006 consists of a pneumatically operated CLASSIC actuator and a 3-way valve body. The actuator is available in two different materials, PA or PPS, depending on the ambient temperature. Interchanging of pressure and working connections enables different fluidic control functions, such as the mixing or distributing of media. The flow-optimised valve body Type 2006 allows excellent flow values. The tried-and-tested self-adjusting packing gland secures a high level of tightness and thus ensures reliable operation over years. The 3-way valve Type 2006 is controlled by a pilot valve or by centralised automation using a valve island. It can be equipped easily with electrical position feedback. For the user, the compact Type 2006 is thus often an economic alternative instead of two single shut-off valves.