WIKA 262.34 Pressure Gauge, 0-400 PSI, 4.5" Dial
9835164 WIKA 262.34 Pressure Gauge, 0-400 PSI, 4.5" Dial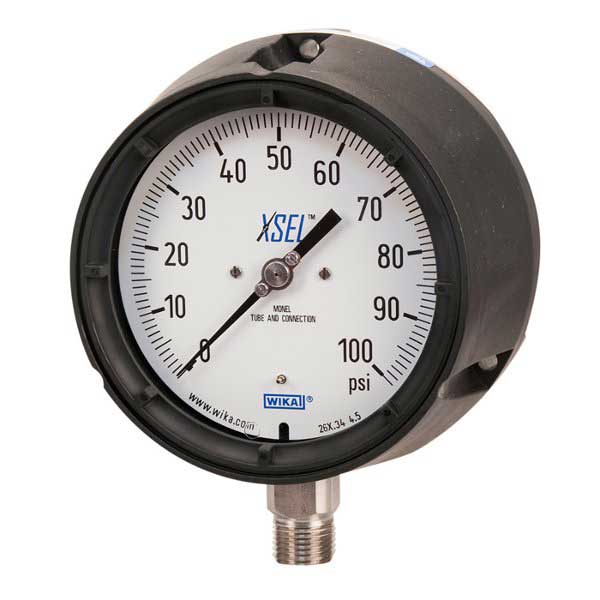 Pressure Range Type:

Standard Pressure Range

Pressure Range (PSI/inHG/IN H2O):

400 PSI

Dial Size:

4-1/2"

Connection Size:

1/2"

Connection Location:

Lower Mount

Connection Type:

MPT

Filled:

Dry Case, Liquid-Fillable

Wetted Material:

Monel M400 Alloy

Case:

Pocan

Option:

Adjustable Pointer
WIKA 262.34 Pressure Gauge, dry case, Liquid Fillable, 4-1/2" dial, 0-400 psig range, Monel (nickel-copper alloy) wetted parts, 1/2" NPT lower mount, black fiberglass reinforced thermoplastic case, 0.5% of span accuracy, solid-front, blow-out back safety case.
Browse All Model 262.34 & 263.34 Products
Product Description
Specifically designed for the chemical and petroleum processing industries, the WIKA 262.34 pressure gauge features Monel wetted parts, a solid-front, blowout back safety case, and adjustable pointer. Available in 4-1/2" or 6" dial size, this pressure gauge is field repairable and field Liquid Fillable.
Monel wetted parts
Fiberglass reinforced plastic case
Solid-front, blowout back safety design
Adjustable pointer
Liquid Fillable
Pressure ranges from 30" Hg vacuum to 30,000 psig
Dimension Drawing