ASCO Hydramotor Electro-Hydraulic Actuator w/Damper Shaft and Arm, Slow Opening
AH2E102A4 ASCO Hydramotor Electro-Hydraulic Actuator w/Damper Shaft and Arm, Slow Opening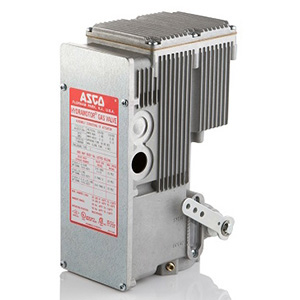 Product Type:

Electro-Hydraulic Actuator

Body Material:

Aluminum

Input Supply Rating:

120 VAC 50/60 Hz

Overall Size:

6.76 in. W x 4 in. D x 10.31 in. H

Pressure Rating:

0 to 15 PSI (Differential)

Seal Material:

NBR

Type:

Linear, Self-Contained, Push Type, Water Tight, Safety Shut-Off
ASCO Hydramotor® Series AH2E Electro-Hydraulic Actuator, 120 VAC 50/60 Hz, 220 VA, 0 to 15 PSI Differential, Aluminum, Slow Opening, 2-Way, Linear, Self-Contained, Push Type, Water Tight, Safety Shut-off, Electro-Hydraulic Actuator with Damper Shaft and Arm.
Product Description
Electro-Hydraulic Actuator; Type Linear, Self-Contained, Push Type, Water Tight, Safety Shut-Off; Overall Size 6.76 Inch Width x 4 Inch Depth x 10.31 Inch Height; Pressure Rating 0 to 15 PSI (Differential); Input Supply Rating 120 Volt AC 50/60 Hertz; Body Material Aluminum; Seal Material NBR; Type of Operation Slow Opening ((26 Seconds Maximum); Valve Position 2 Normally Closed; Power Rating 220 Volt Amp; Pipe Size 1 to 3 Inch; Flow Rate 20 to 160 Cv; Temperature Rating -40 to 150 Deg F (Ambient), 150 Deg F (Fluid); On/Off Timing 26 Second (Opening)/1 Second (Closing); Enclosure Rating NEMA 4; Used with V710 Gas Valve Body; Includes Damper Shaft, Arm; Approval UL, CSA, FM
Series Information
The AH2E Hydramotors are push-type, self-contained, electrohydraulic linear actuators which extend when powered and retract by spring force upon power interruption. AH2E Hydramotors provide a fast spring return shutoff time of one second or less. When the actuator is mounted to a V710 gas valve, position indicators on both sides of the actuator show the open or closed position of the valve. The AH2E Hydramotor/V710 gas valve combination pro-vides main line gas control for a wide range of applications, including boilers, furnaces, ovens and all types of industrial and commercial burners. It is available in either a slow or fast opening construction.