NK Technologies Power Transducer
APS2-420-24L-10.0 NK Technologies Power Transducer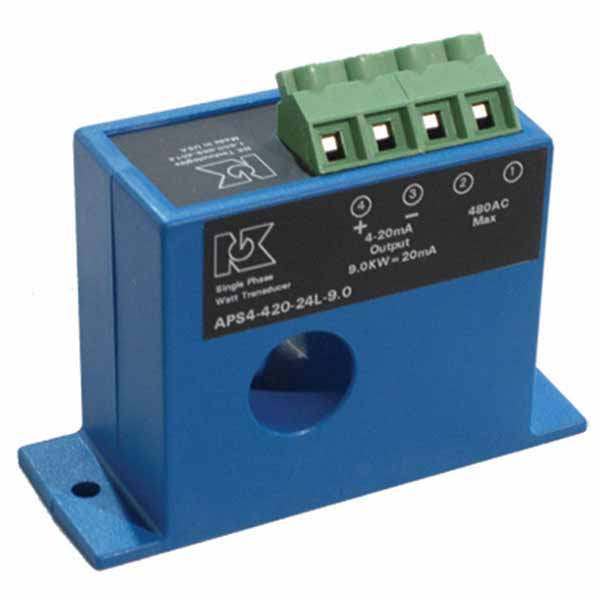 Input Range:

10kW

Input Voltage:

240VAC

Max. Operating Temperature:

122 F

Min. Operating Temperature:

-4 F

Mounting Method:

panel-mounted

Output Signal:

4-20 mA

Product Type:

Transducer

Refine Search:

Sensor Parts & Accessories

Response Time:

100ms (to 90% of step change)

Safety Agency Approvals:

UL/cUL

Supply Voltage Range:

24VDC loop-powered
APS2-420-24L-10.0 NK Technologies APS Series Power Transducer, 24VDC loop-powered power supply, 240VAC primary voltage input, 10kW input range, 4-20mA output signalpanel-mounted, UL/cUL, -4 to 122 temp range,100 ms (to 90% of step change) response time.
Browse All Single/3-Phase Transducer Products
Product Description
APS2-420-24L-10.0
APS Series kWH Power Transducers
offer an inexpensive way to measure kWH on single- and three-phase balanced loads. The APS Series constantly measures motor power consumption, which is proportional to the amount of work being done and an indication of the motor load. Available for input currents up to 180 A and nominal voltages up to 480 VAC.
FEATURES
Measures true power (HP or kW) on balanced loads; accounts for voltage and power factor fluctuations and improves sensitivity fluctuations and improves sensitivity to load changes
Requires only one or two power legs for installation
Improves reliability when used in conditions where power interruptions and voltage sags are common
Current and voltage sensors in one package and 24 VDC loop-powered supply allows for quick and easy two-wire installation
Dimension Drawing