Oriental Motor Brushless Speed Control System
AXH5100KC-15 Oriental Motor Brushless Speed Control System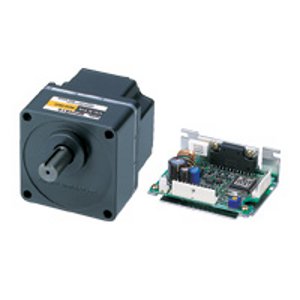 Product Type:

Brushless Motor

Frame Size:

3.54 in.

Frequency:

50/60 Hz

Motor Type:

Brushless

Output Power:

100W (1/8 HP)

Shaft/Gear Type:

Parallel Shaft Gearhead
Brushless speed control system provides space savings and high power output in an easy to use solution. Compact board-level driver, Compact, high power motor, Superior speed stability, Constant torque over a wide speed range
Browse All AXH Series Products
Product Description
The AXH Series combines a compact, brushless DC speed control motor and 24 VDC board-level driver. These systems provide space savings and high power output, and are easy to use.
Features
Compact Board-Level Driver: The size of the AXH driver has been reduced by approximately 60% when compared to conventional DC brushless drivers. (Driver for 15W-50W)
Compact, High Power Motors: The size of the AXH Motor has been reduced by approximately 55% when compared to conventional AC speed control motors [ 3.15 in. ( 80mm) size]. The motor has extremely high output power for its small size.
Superior Speed Stability: The fluctuation is only 1% for load, voltage and temperature. These motors provide superior speed stability with minimal speed fluctuation.
Constant Torque over a Wide Speed Range: The speed can be set within the wide range of 100 r/min to 3000 r/min (30:1). The AXH Series maintains a constant torque from low speed to high speed.
Gearheads Provide High Torque: AXH geared type motors come pre-assembled with a gearhead. These gearheads provide torque up to 17.7 lb-in (2N'm) for the 15 W motors and up to 141 lb-in (16N'm) with the 50 W motors.
Protective Functions: The AXH Series is equipped with protective functions to handle overload, overvoltage, undervoltage, overspeed and out-of-phase power. When one of these protective functions detects an abnormality, a LED blinks and motor comes to a stop.
Dimension Drawing