Oriental Motor Brushless Motor with Speed Control Unit
AXUD90C Oriental Motor Brushless Motor with Speed Control Unit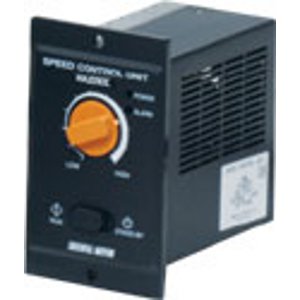 Product Type:

Brushless Motor

Motor Type:

Brushless
The AXU Series combines a compact, brushless DC motor with a speed control unit. These systems provide space savings, easy wiring and simple operation.
Product Description
Features
Easy Connection and Simple Operation: Just connect the motor connector to the control unit, and the AXU is ready for immediate use. The rate of rotation is easy to adjust using the speed control dial on the front of the speed control unit.
Thin and Compact: Compared to an AC speed control motor, the use of a brushless DC motor significantly reduces the size of the motor. Motor Length: 1.65 inch (42 mm) for 10 W, 25 W
2.24 inch (57 mm) for 40 W, 90 W
Wide Speed Range and Constant Torque: Even with an available speed range of 100 2000 r/min, the AXU Series motor maintains a constant torque.
Dimension Drawing