Barksdale Pressure Switch
Barksdale Pressure Switch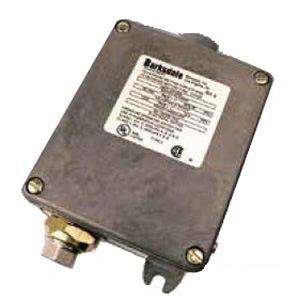 Product Type:

Pressure Switch

Manufacturer:

Barksdale

Product Family:

B2T Series

Application:

Compressor, Hydraulic Power Unit, Medical, Mining, Oil and Gas, Pneumatic Device, Power Plant, Water Pump

Connection Type:

1/4 in. Threaded

Contact Configuration:

SPDT

Contact Rating:

10 A @ 125/250 VAC, 3 A @ 480 VAC

Enclosure:

NEMA 4

Enclosure Material:

Anodized Aluminum

Operating Pressure Rating:

240 to 4800 PSI

Pressure Media:

Water
Barksdale B2T Series Pressure Switch, 1/4" NPT, 125/250/480 VAC, 10/3 A, 240 to 4800 PSI, SPDT, NEMA 4, Dual Setpoint Housed, Single/Dual Circuit, Pressure Switch.
Product Description
Pressure Switch; Type Dual Setpoint Housed, Single/Dual Circuit; Operating Pressure Rating 240 to 4800 PSI; Pressure Media Water; Contact Configuration SPDT; Contact Rating 10 Amp at 125/250 Volt AC, 3 Amp at 480 Volt AC; Connection Type 1/4 Inch Threaded; Enclosure NEMA 4; Enclosure Material Anodized Aluminum; Application Oil and Gas, Medical, Mining, Compressor, Power Plant, Water Pump, Hydraulic Power Unit, Pneumatic Device; Accuracy +/-1 Percent; Electrical Connection Internal Terminal Strip Via Conduit; Process Connection Material 316 Stainless Steel; Temperature Rating -40 to 165 Deg F (Operating); 316 Stainless Steel Bourdon Tube
Features/Benefits
High accuracy; High pressure up to 18,000 psi; Tamper-proof external adjustment
Series Information
Barksdale's Bourdon Tube Pressure Switches offer instrument class accuracy, making them an ideal solution to your pressure control needs when accuracy is critical. Built-in over-travel stops allow for higher proof pressures than most other pressure switch technologies. Setpoints are easily adjusted via an internal adjustment screw. Available in single and dual configurations, Bourdon Tube Pressure Switches are adaptable for use in a wide range of industrial applications. A variety of limit switches is available to allow for a multitude of electrical switching conditions. For applications requiring a highly accurate switch in a highly durable package, Bourdon Tube Pressure Switches are the ideal solution.