TURCK Inductive Sensor
BIM-UNT-2AP6X-0.2-RSC4.4T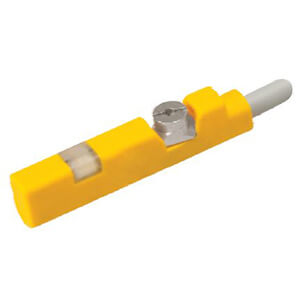 Refine Search:

Sensors

Product Type:

Inductive Sensor

Manufacturer:

Turck

Housing Material:

Plastic

Output Mode:

PNP
BIM-UNT-2AP6X-0.2-RSC4.4T TURCK Sensor, embeddable, inductive, plastic housing, magnet operated, groove mount or strap-on, active face on end, M12x1 4-pole connection conn, normally open, PNP (sourcing), 3-wire, 10-30VDC, polarity protected pulsed SCP, 1 LED, 0.2m cable, IP67.
Product Description
BIM-UNT-2AP6X-0.2-RSC4.4T Over the last 50 years, Turck has built a reputation for designing and building reliable non-contact inductive sensors that are widely used in diverse positioning applications. Due to our extensive experience, we have created a broad product portfolio that enables a designer to find the sensor that fits the application.

Our portfolio includes standard inductive sensors as well as patented sensing technologies like uprox®, which sense all metals at the same range and at greater ranges than standard inductive sensors.
Dimension Drawing