Oriental Motor Brushless Motor
BLFD400S2 Oriental Motor Brushless Motor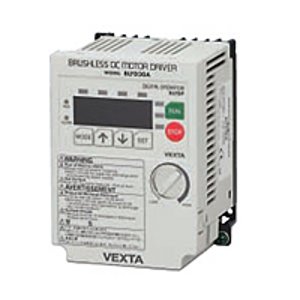 Product Type:

Brushless Motor

Frame Size:

3.15 in.

Frequency:

50/60 Hz

Motor Type:

Brushless

Output Power:

400W (1/2 HP)
The BLF Series brushless motor achieved a maximum motor speed of 4000 r/min. With the digital operator, digital setting and display are possible, offering wideranging functions to meet your diverse needs.
Browse All BLF Series Products
Product Description
Features
Wide Speed Control Range from 80 r/min up to 4000 r/min: A wide speed control range from 80 to 4000 r/min (speed ratio of 50:1) enables the motor to be used for various applications.
Energy-Saving: At an output power of 60 W (1/12 HP), the power loss of the BLF Series is approximately half that of an inverter-controlled AC motor, which contributes to the energy-saving operation of your equipment.
Multi-Speed Operation Using up to Eight SpeedsUp to eight speeds can be set by digital setting. On the digital operator, the speed can be set in units of 1 r/min and a different acceleration/deceleration time can be set for each speed. Switch the speed according to your needs.
Easy Operation with the Digital Operator: You can perform various settings and operations using the six operation keys on the digital operator
Various Digital Displays: Speed, load factor, alarm code, etc. can be displayed digitally.

The speed can be displayed as gearhead output shaft speed.

Four Speed Setting Methods: Select one of four speed setting methods according to the condition in which your equipment is used.
Dimension Drawing