Oriental Motor Brushless Speed Control System
BLH015K-A Oriental Motor Brushless Speed Control System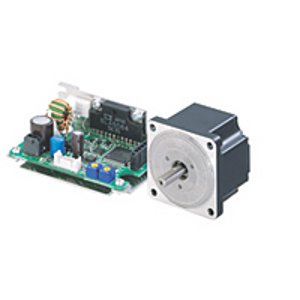 Product Type:

Brushless Motor

Frame Size:

1.65 in.

Frequency:

10 - 55 Hz

Motor Type:

Brushless

Output Power:

15W (1/50 HP)

Shaft/Gear Type:

Round Shaft (No Gearhead)
Brushless speed control system offers high performance and simple operation from a compact motor and driver. Slim, Yet Powerful Design, Compact Driver, Wide Speed Range, Acceleration/Deceleration Time Setting Function
Browse All BLH Series Products
Product Description
The BLH Series combines a slim, high-power brushless motor with a 24 VDC board-type driver, to meet your space-saving needs. Speed control range is 100 to 3000 r/min. Choose from a wide variety of frame sizes, offering outputs of 15 to 100 W (1/50 to 1/8 HP) to meet your specific application.
Features
Compact Board-Type Driver: The models with an output of 15 to 50 W (1/50 to 1/15 HP) adopt a compact, board-type driver smaller than the size of a business card. This will certainly help to reduce the size of your equipment.
Speed Control Range: 100 to 3000 r/min (speed ratio 30:1)
Wide Variety: The series offers a wide range of models from compact packages with a motor output of 15 W (1/50 HP), to larger ones producing a high output of 100 W (1/8 HP). Choose one that best suits your specific requirements.
IP65 Motor Structure:* The motor is protected against water intrusion, should water come into contact with the motor.
*IP40 for 15 W (1/50 HP) motor


The motor must not be washed with water, and is not suitable for use in an environment where it constantly comes into contact with water.

RoHS-Compliant: The BLH Series conforms to the RoHS Directive that prohibits the use of six chemical substances including lead and cadmium.
Long Life Gearhead Rating of 10000 Hours:* The rated life of the parallel shaft gearhead and hollow shaft flat gearhead is 10000 hours. The parallel shaft gearhead achieves a rated life of twice as long as that of a conventional gearhead.
*5000 hours for gearhead equipped with 15 W (1/50 HP) geared motor.


The 50 W (1/15 HP) and 100 W (1/8 HP) parallel shaft gearhead has a tapped hole at the shaft end.
Dimension Drawing