Barksdale Piston Pressure Switch
C9612-3-CS Barksdale Piston Pressure Switch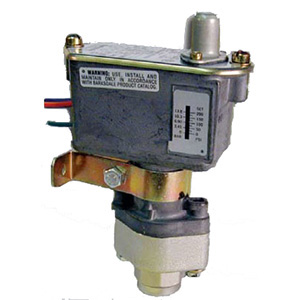 Product Type:

Pressure Switch

Application:

Compactor and Baler, Compressor, Hydraulic Power Unit, Hydraulic Press, Lubrication Equipment, Machine Tool, Metal Working, Railroad, Utility and Power Generation

Approval:

CSA, UL

Enclosure Material:

Anodized Aluminum

Operating Pressure Rating:

250 to 3000 PSI

Operator Type:

Buna-N O-Ring/416 Stainless Steel Piston

Connection Type:

1/4 Inch-18 TPI Female Threaded

Contact Configuration:

SPDT, Snap-Action

Contact Rating:

10 A @ 125/250/480 Volt, 0.03 A @ 250 VDC

Enclosure:

NEMA 3
Barksdale C9612 Series Piston Pressure Switch, 1/4"-18 TPI FPT, 125/250/480 V/250 VDC, 10/0.03 A, 250 to 3000 PSI, SPDT, Snap-Action, NEMA 3, Buna-N O-Ring/Stainless Steel Piston, Single Setpoint, Piston Pressure Switch.
Product Description
Piston Pressure Switch; Type Single Setpoint; Operator Type Buna-N O-Ring/416 Stainless Steel Piston; Operating Pressure Rating 250 to 3000 PSI; Contact Configuration SPDT, Snap-Action; Contact Rating 10 Amp at 125/250/480 Volt, 0.03 Amp at 250 Volt DC; Connection Type 1/4 Inch-18 TPI Female Threaded; Enclosure NEMA 3; Enclosure Material Anodized Aluminum; Application Compactor and Baler, Machine Tool, Lubrication Equipment, Hydraulic Press, Railroad, Hydraulic Power Unit, Compressor, Utility and Power Generation, Metal Working; Approval UL, CSA; Accuracy +/-2 Percent; Electrical Connection 18 Inch Free Lead; Temperature Rating -20 to 165 Deg F; Process Connection Material Nickel Plated Aluminum
Features/Benefits
Extremely long life; Weather resistant housing; Easy setpoint adjustment; High reliability; High proof pressure
Series Information
Barksdale's Series C9612 and C9622 Sealed Piston Pressure Switches offer extremely long life in a robust package, making them the ideal solution to your industrial pressure control needs. Sealed Piston switches are ideal for applications demanding rapid cycling. Available in various pressure ranges from 15 to 3000 psi, sealed piston switches are suitable for use in industrial applications such as hydraulic presses, compactors, and machine tools. All models feature a durable, anodized aluminum enclosure with a tamper proof adjustment screw cover and an integrated 27/32" hole for 1/2" NPT conduit connector, and are rated to NEMA 3 as a standard. Optional terminal boxes allow for ease of electrical connection, and switches are available in both single and dual circuit configurations. For applications requiring a highly accurate switch in a durable package, Barksdale's Series C9612 and C9622 Sealed Piston Pressure Switches are the ideal choice.