Barksdale Pressure Switch
D1H-H18SS-S0157 Barksdale Pressure Switch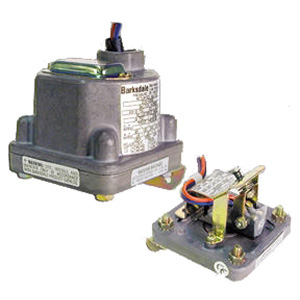 Application:

Engine Monitoring, Factory Automation, Food and Beverage, Hydraulic Power Unit, Machine Tool, Medical Equipment, Metal Working, Pump and Compressor Monitoring, Waste Management

Connection Type:

1/4 in. Female Threaded

Contact Configuration:

SPDT

Contact Rating:

10 A @ 125/250 VAC, 3 A @ 480 VAC

Enclosure:

NEMA 4

Enclosure Material:

Anodized Aluminum

Operating Pressure Rating:

0.03 to 1.2 Bar

Operator Type:

17-7 PH Stainless Steel Diaphragm

Product Type:

Pressure Switch
Barksdale D1H Series Pressure Switch, 1/4" FPT, 125/250/480 VAC, 10/3 A, 0.03 to 1.2 Bar, SPDT, NEMA 4, Stainless Steel Diaphragm, Single Setpoint Housed, Single/Dual Circuit, Factory Preset, Pressure Switch.
Product Description
Pressure Switch; Type Single Setpoint Housed, Single/Dual Circuit, Factory Preset; Operator Type 17-7 PH Stainless Steel Diaphragm; Operating Pressure Rating 0.03 to 1.2 Bar; Contact Configuration SPDT; Contact Rating 10 Amp at 125/250 Volt AC, 3 Amp at 480 Volt AC; Connection Type 1/4 Inch Female Threaded; Enclosure NEMA 4; Enclosure Material Anodized Aluminum; Application Pump and Compressor Monitoring, Engine Monitoring, Machine Tool, Hydraulic Power Unit, Medical Equipment, Waste Management, Food and Beverage, Factory Automation, Metal Working; Accuracy +/-0.5 Percent; Temperature Rating -40 to 165 Deg F (Operating), -65 to 200 Deg F (Storage); Process Connection Material 304 Stainless Steel; Electrical Connection 1/2 Inch Threaded Conduit with 16 AWG, 18 Inch Lead
Features/Benefits
High accuracy; Ideal for pressure or vacuum; Easy setpoint adjustment; Turn adjustment screw counterclockwise to raise actuation point; Turn adjustment screw clockwise to increase setpoint
Series Information
Barksdale's Diaphragm Pressure Switches offer superior accuracy in a robust package, making them the ideal solution to your industrial pressure control needs. Diaphragm switches are ideal for applications demanding instrument class accuracy and where pressure pulsations are less than 25 cycles per minute. Available in various pressure ranges up to 150 psi, diaphragm switches are suitable for use in either positive pressure or vacuum applications. Single, and dual, and triple circuit models are available. Housed models (D1H & D2H) feature a durable, anodized aluminum enclosure with an integrated 1/2" NPT conduit connector, a tamper-resistant cover for the setpoint adjustment screws, and are rated to NEMA 4 as a standard. For applications requiring a highly accurate switch in a durable package, Barksdale's Diaphragm Pressure Switches are the ideal choice.