Oriental Motor Hollow Rotary Actuators
Oriental Motor Hollow Rotary Actuators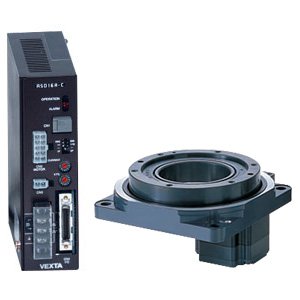 Product Type:

Electric Rotary Actuators

Manufacturer:

Oriental Motor

Product Family:

DG Series

Frame Size:

5.12 in.
Oriental Motor AlphaStep closed loop step motors with a hollow rotary gearhead. Large-Diameter, Hollow Output Table, Direct Coupling, Accurate Positioning, Shorter Positioning Time, Easy Home Operation.
Product Description
A hollow rotary actuator featuring a hollow table that allows large-inertia discs or arms to be installed directly. The actuator uses a step motor adopting closed loop control. High accuracy positioning can be performed while keeping the user-friendly features of a stepping motor intact.
Dimension Drawing