Seametrics Data Logger
In Stock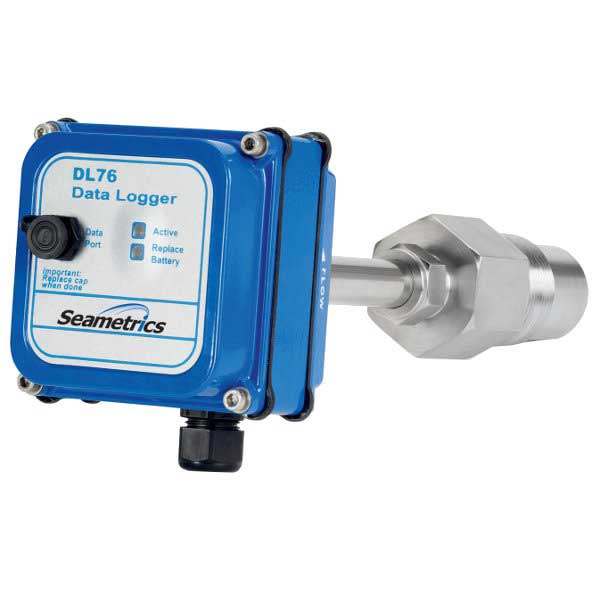 Manufacturer:

Seametrics

Battery Life:

Estimated life is 3-5 years depending on usage.

Clock Accuracy:

10 minutes/month (.02%)

Max. Input Frequency:

500 Hz

Memory Wraparound:

Selectable options (Sotp or Overwrite)

Power Type:

Size C 3.6 VDC Lithium Battery

Indicators:

Low battery; Power

Product Type:

Data Logger

Operating Temperature:

0°F to 130°F ( to 18°C to 54°C)
Seametrics DL76W Data Logger, Wall Mount
Product Description
The DL76 is a battery-powered data logger that can be ordered factory-mounted to the IP, EX and TX Series flow meters or as a wall mount accessory used with most Seametrics flow meters. Housings are low-profile rugged cast aluminum, gasketed for environmental protection with optional tamper-evident kit for security monitoring. The user can select to stop recording after the storage time or continue and over-write the existing data (first-in:last-out). Indicator lights on the unit flash to indicate when it is functioning and when the battery is low.
Placing the DL76 logger in operation is simple using Seametrics' FlowInspector V2* software and your PC-computer. The software allows you to retrieve, view, create graphs and charts, store, and analyze your collected data and can be used with an unlimited number of dataloggers. Requirements:
PC with Windows 98, NT, 2000, XP, Vista or Windows 7
CD-Rom drive (if running from CD) free digital download available
0.5 MB disk space
Screen resolution best viewed at 800 x 600
Serial port or USB/serial adapter**
Seametrics DC3 serial data cable or DC3S serial IP68 data cable
*Older versions of FlowInspector are not compatible with the DL76.
**NOTE: If PC only has USB port, a serial-to-USB converter cable is required. Four cables have been tested and proven compatible:
IO Gear UC-232A
Keyspan USA-19HS
Airlink101 AC-USBS
Goldx GXMU-1200
Features
Cycle times: 15, 30, 60, 240, 480 and 1,450 seconds
Storage times: 11, 22, 44 days; 6, 12, and 36 months
Rate Volume Units: mL, liters, gallons, imperial gallons, cubic feet, cubic meters, million gallons
Rate Time Units: seconds, minutes, hours, days
Total Units: liters, gallons, Imperial gallons, cubic feet, cubic meters, million gallons, acre-feet, acre-inches, megaliters, gallons x 1000
Display data and use tools like zoom, averaging and appending files to create a continuous record
Export data in both .txt and .csv formats for sharing or analysis
Applications
Water usage monitoring, reporting, and management
Custody transfer regulation
Peak demand monitoring
Dimension Drawing