Edwards Signaling Surface Mount Box, White
EG4B Edwards Signaling Surface Mount Box, White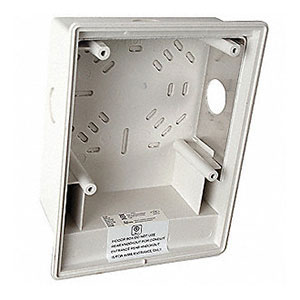 Weight:

0.15 lb

Product Type:

Box

Refine Search:

Safety Parts & Accessories
EG4B Edwards Signaling Genesis Series Surface Mount Box for Genesis Speaker/Strobe, white finish.
Product Description
EG4B The Genesis line of speakers and strobes are audible-visible emergency signaling devices. Protruding no more than one inch from the wall, Genesis speakers and speaker-strobes feature textured housings in white or red. Genesis strobes are designed to channel and condition light to produce a highly controllable distribution pattern.
Speaker-strobes feature selectable candela output with a switch located on the bottom of the device. The candela setting is visible even after the device is installed.
All Genesis speakers include a DC blocking capacitor to allow electrical supervision of the audio distribution circuit. The speaker has a sealed back construction for extra durability and improved audibility.
The strobes are designed to flash at the same rate (synchronize) when used with a compatible sychronization source, such as the EG1M-RM synchronization module, E-FSC and E-FSA fire panels, and EBPS series booster supplies.
FEATURES AND SPECS
Xenon light source
Clear lens
White or red housing
Low profile design
Field selectable candela output via switch
1/4, 1/2, 1, and 2 watt selections via switch
Up to 99dB @ 1m/89dB @ 10ft. output
DC blocking capacitor for audio circuit supervision
Fits all standard 4" square electrical boxes - no extension ring or trim plate required
Operating temperature range