Parker Veriflo F9 Check Valve
F9T4V-EP Parker Veriflo F9 Check Valve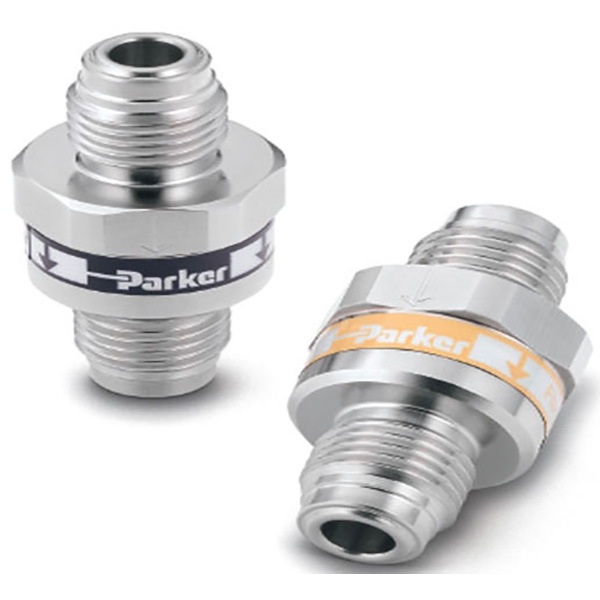 Application:

Valve Manifold Box/Panel, Gas Cabinet, Gas Stick, Tool Hook-Up

Body Material:

316L Stainless Steel

Cap Style:

Port Type

End Connection:

Tube Stub x Tube Stub

End To End Distance:

1.24 in.

Inclusions And Features:

316L Stainless Steel Poppet/Stop Limiter, Blue Label

Nominal Size:

1/4 in. x 1/4 in.

Pressure Rating:

3000 PSI (Inlet and Back)

Seal Material:

Fluorocarbon Elastomer

Spring Material:

Elgiloy/Equivalent

Temperature Rating:

-10°F to 150°F

Valve Type:

Ultra-High Purity, Welded
F9T4V-EP Parker Veriflo, F9 Check Valve, VeriClean™, 1/4" x 1/4", Tube Stub x Tube Stub, 3000 PSI, Ra Electropolished, 316L Stainless Steel, Fluorocarbon Elastomer Seal, Ultra High Purity, Welded, Check Valve.
Product Description
Check Valve; Type Ultra-High Purity, Welded; Nominal Size 1/4 Inch x 1/4 Inch; End Connection Tube Stub x Tube Stub; End to End Distance 1.24 Inch; Body Material 316L Stainless Steel; Spring Material Elgiloy/Equivalent; Seal Material Fluorocarbon Elastomer; Temperature Rating -10 to 150 Deg F; Pressure Rating 3000 PSI (Inlet and Back); Inclusions/Features 316L Stainless Steel Poppet/Stop Limiter, Blue Label; Application Valve Manifold Box/Panel, Gas Cabinet, Gas Stick, Tool Hook-Up; Flow Capacity 0.45 Cv; Hex Size 7/8 Inch; Leak Rate Bubble Tight (Internal), Less than 1x10-9 SCC/Second (External); Internal Volume 0.14 Cubic Inch; Surface Finish 7 Ra Electropolished,
FEATURES
Noise Free Operation with the Patented Asymmetric Spring Design; Welded Design Reduces Footprint; Two Seal Offerings to Meet all SEMI Gas Compatibility Requirements; Class 100 Clean Room Assembled and Packaged; VeriClean 316L Stainless Steel Enhances Electropolishing and Corrosion Resistance
Series/Model Information
Parker Veriflo Division's F9 Series UHP Check Valve offers improved performance and compatibility featuring a patented asymmetric spring design for a consistently quiet operation and a lower flow restriction compared to competition. The F9's two seal materials meet all Semi gas compatibility requirements, reducing customer inventories and meeting a wider range of applications. Assembled and packaged in a Class 100 clean room, the F9 is designed for use in ultrahigh purity semiconductor applications.
Dimension Drawing