TTK Leak Detection Alarm Unit 110-240VAC - Oil Detection
FG-A-OD TTK Leak Detection Alarm Unit 110-240VAC - Oil Detection
In Stock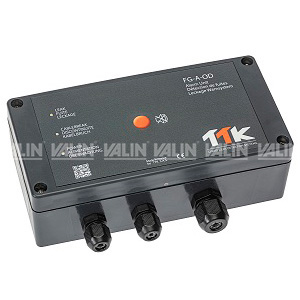 Product Type:

Non-Locating Unit
TTK Liquid Leak Detection Leak Detection Alarm Unit 110-240VAC - Oil Detection, Wall-Mounted, 1 Cable.
Product Description
The FG-A-OD, Alarm Unit for Hydrocarbon Leak Detection, is designed to be used with FG-OD hydrocarbon range of products, to provide quick detection of liquid (non-conductive hydrocarbon liquids and solvent).
LEDs on the front panel indicate presence of Power Supply (green), Leak Detected (red) or Cable Break (yellow).
Responses on the FG-A-OD alarm unit:
In the case of leak, an audible alarm is triggered. The red LED is switched on and the leak relay is activated.
In the case of cable break, an audible alarm is triggered, the yellow LED is switched on and the cable break relay is activated.
The "SOUND OFF" button on the front panel allows manual silencing of the audible alarm. The LED and corresponding relay remain activated as long as the fault persists. When the fault is corrected the LED and the relay return to normal status. FEATURES
Available as wall mounted enclosure.
The unit can monitor 1 sense cable of up to 65 ft (20 m).
Visual and audible indicators for the type of fault (leak or cable break).
Flexible supply voltage: 12-24 VAC or 100-240 VAC; 15-30 VDC.
Easily accessible terminals for quick installation.
Two SPDT relays provide easy interfacing to third-party supervising equipment.
BENEFITS
The FG-A-OD is simple and easy to use, your ideal choice for smaller or remote applications.
Reduced maintenance, only a simple bi-annual test is recommended.