TTK Digital Touchscreen Leak Detection Panel
FG-NET-LL F TTK Digital Touchscreen Leak Detection Panel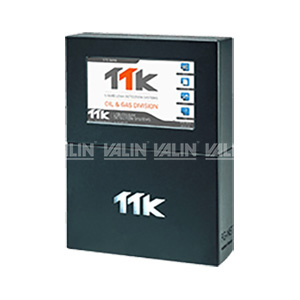 Product Type:

Locating Unit

Input Voltage:

100-240 VAC

Max. Maintainable Temperature:

104F
TTK Liquid Leak Detection Digital Touchscreen Leak Detection Panel, Digital Touchscreen Leak Detection Panel (wall mounted) 100-240VAC for OD Bus 8771.
Product Description
The FG-NET digital unit is designed to be used with all TTK digital sense cables, for water, bases, acid and hydrocarbon leak detection.
In the event of a fault on the sense cables (leak or cable break):
Primary responses from the FG-NET:
An audible alarm is triggered and a relay is activated.
The touch screen of the panel displays the location of the leak and details of the fault (the type of fault leak or cable break), including the time and date the fault is registered.
Optional – integrated maps of the leak detection installation highlighting the location of the fault, available on the touch screen display of FG-NET.
Secondary advanced responses:
Report to the BMS via a JBUS/MODBUS protocol. The FG-NET can drive dynamic drawings on the host BMS.
Send email alerts and SNMP traps to a LAN-connected BMS, via a standard Ethernet connection.
FEATURES
7" (175 mm) touch-screen gives a clear and detailed indication of the system status.
User-friendly system - Users can customise the system with the sub menus accessible from the home screen, to set up the panel.
Up to 120 lengths of sense cables (or 5905 ft [1800 m]) can be managed independently.
The system's reaction time to faults is adjustable cable by cable.
Temporal isolation (72 hours maximum) on one or several sense cables.
Up to 5000 events stored in the history log.
Non-volatile memory (SD), for storing user settings and drawings.
Three types of interface for communication with a BMS available.
-TCP/IP connection via an Ethernet port.
-JBUS/MODBUS RS232 or RS422/485 serial links.
-9 relay contacts: 8 configurable relays + 1 specific relay for power interruption.

Dual relay drive (e.g. 1 for BMS and 1 for solenoid valve);
Relay positions are defined by a LED indicator.

Different security levels to provide maximum security.
BENEFITS
Precise location of a leak: +/- 3 ft (1m) for water and acid leak detection and to the section for oil leak detection.
Each sense cable is addressable and can be assigned a specific name.
Multiple simultaneous leaks can be detected (120 cables = 120 alarms).
Different types of sense cables (for detecting conductive & non-conductive liquids) can be connected on the same panel for a truly bespoke system.
Cable break faults can be detected (to the nearest cable).
When a cable break occurs, the system maintains its integrity by continuing to monitor all preceding cables for faults.
Compatible with existing monitoring systems (Trend BMS etc.)
Extension and upgrade of the system is easy. No additional power source or zoning panels are required.