Fairchild Model FGD Micro-Mist Separator
Fairchild Model FGD Micro-Mist Separator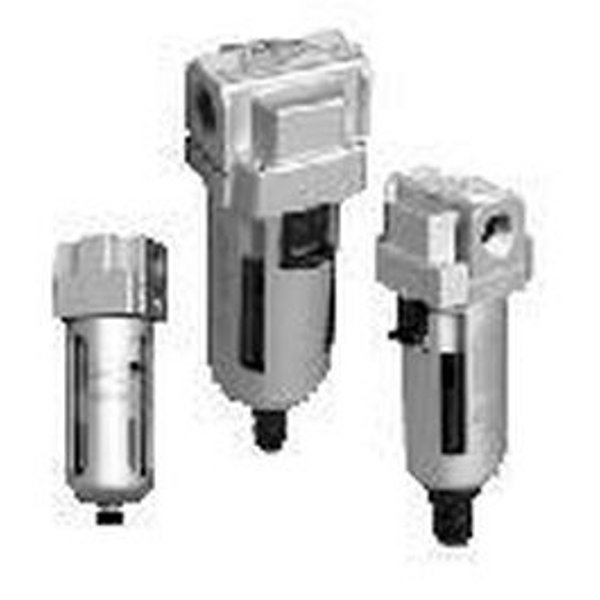 Manufacturer:

Fairchild

Product Family:

Model FGD

Port Size:

1/2 in.

Auto Drain Type:

Float Type
Fairchild Model FGD micro-mist separator, 0.01 micron and 1/4in FNPT ports
Product Description
The Fairchild Automatic Drain Filter Series is designed for use in systems that require clean, oil-free air. This series consists of a particulate filter and two coalescing filters with automatic drains. You can easily replace all filter elements. Automatic Drain Filters are highly effective in removing oil and liquid-borne particulate matter. These units are recommended for use when clean air or inert gas environments are required in laboratory air, process control, instrument and compressed air systems.
Automatic Drain Filters have the following features and benefits:
Pre-filters remove water and dirt particles from air lines up to a maximum size of 5 microns.
Coalescing filters are available in 0.3 micron and 0.01 micron sizes to remove 99.9% of oil mist.
Maximum operating pressure of 150 psig.
Differential pressure automatic drain provided on 1/4" port, 5-micron pre-filter. Float type automatic drain provided on all others.
Easily replaceable filter element saves service time.
Die cast aluminum or zinc body with Polycarbonate bowl and metal guard assures safety and durability.
Dimension Drawing