FNS06CG01A FieldBlock Enclosure Swtich Drop Connector
FNS06CG01A FieldBlock Enclosure Swtich Drop Connector
Not In Stock – Backorder Today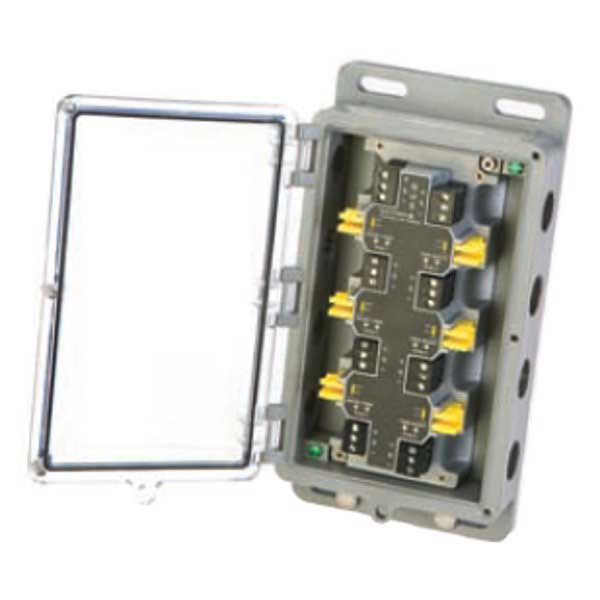 Refine Search:

Enclosures

Manufacturers:

StoneL

Product Family:

FieldBlock Series

Degree of Protection:

IP67

Entry Type:

(8) Cable glands

Functions:

Drop Connector

Protection:

DeviceNet protection
StoneL FieldBlock Enclosure, Switch Drop Connector (power protected) for DeviceNet 1-6, six switch drops, eight cable gland entry ports, sealed for heavy washeddown application (IP67).
Product Description
FieldBlock (FN)
StoneL's FieldBlock enclosure is designed for use in general purpose, nonincendive and intrinsically safe process applications. It may be used with flexible or hard conduit wiring systems. With its rugged corrosion proof enclosure, variety of module and connector configurations, and its mounting adaptability, it will prove invaluable for field networking projects.
Features
Durable corrosion proof enclosure is made of epoxycoated anodized aluminum with an impact-resistant Lexan polycarbonate cover.
Sealed for heavy washdown applications the enclosure is rated for NEMA 4, 4X & 6 (IP67).
Suitable for hazardous environments in nonincendive (Div 2/ Zone 2) or intrinsically safe (Div 1/Zone 0) applications.
Multiple connector/cable gland options include quick connectors (mini or micro), cable glands, ½" NPT or M20. Special models with varying combinations may also be specified for unique requirements.
Fast, convenient wiring is possible with easy access fully labeled terminal blocks, and the quick entry durable hinged cover.
Space-efficient design minimizes external dimensions while offering ample room for wire connection and drop switching.
Clear operation status is displayed using LED system to show drop connector, bus power, and short circuit status. LED displaymay also be conveniently viewed while the enclosure cover is closed and sealed.
Bus power monitoring system provides a flashing LED warning display if voltage levels fall outside specified limits. This aids in trouble-shooting and preempts potential problems.
Wide variety of drop connectors includes passive, protected, and switched options.
Individually switched drops enable each circuit to be independently energized or de-energized from the bus, saving valuable maintenance and set-up time.
Safety lock provision adds an extra measure of security for lock out, tag out conditions.
Dimension Drawing