Parker Velcon FO Pleated Paper Filter Cartridge
FO-644PLF10M Parker Velcon FO Pleated Paper Filter Cartridge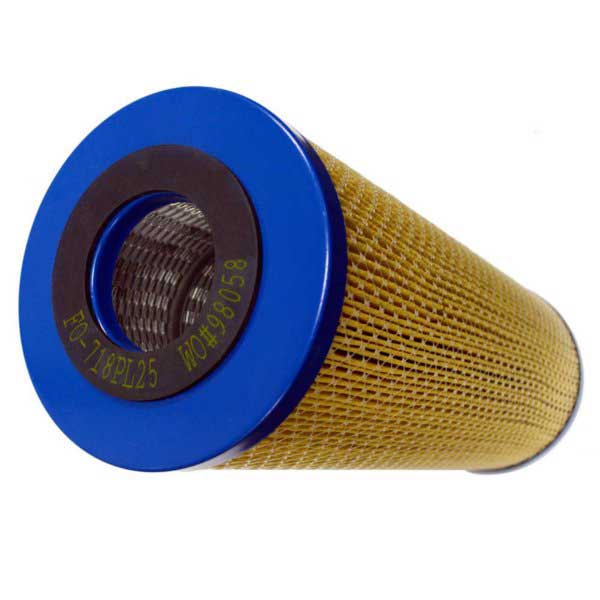 I.D.:

3-1/2 in

Length:

44 in.

Micron Rating:

10

O.D.:

6 in

Product Cross Reference:

FI-644-10PB, MP10LX3, MP10LX3-HT
Product Description
Velcon Pleated Media Cartridges are suitable for a broad range of polar and non-polar fluids. Recommended for applications where the contaminant is granular (non-colloidal), allowing maximum utilization of the high surface area.
Large Surface Area – Allows high flow rate with low initial pressure drop and maximum contaminant holding capacity.
Resin Impregnated Media – Maintains strength, resists effects of water and heat.
75 psi Collapse Strength – Heavy gauge carbon steel center tubes give safety margin against pressure surges.
Coated Steel Components – Resist corrosion from most industrial fluids.
Corrugated Media – Prevents pleat pinch-off, assuring all filtration media is utilized.
Buna-N Gaskets – The best general gasket material available assures positive seal in most fluids.
Thermoset Bonding Material – Durable endcap-to-media bond prevents internal bypassing
Threaded base filter cartridges – Available for easier installation.
Applications
All Hydrocarbon Fuels
Cutting Oils
Glycols
Degreasing Fluids
Water Emulsion Coolants
Naphtha
Lube Oils
Ethyl Alcohol
Insulating Oils
Toluol
Synthetic Oils
Hydraulic Oils
DieselFuel
Biodiesel Fuel
Specifications
Recommended changeout differential pressure - 25 psid
75 psi Collapse strength
Micron ratings from 1/2 to 75
98%+ Nominal filtration efficiency
5 - 9 Operating pH range
250°F Maximum operating temperature
Multi-pass (Beta Ratio) data available on request
Product Series/Models