Edwards Signaling Annunciator Trim Plate, 3 Gang
FSAT3 Edwards Signaling Annunciator Trim Plate, 3 Gang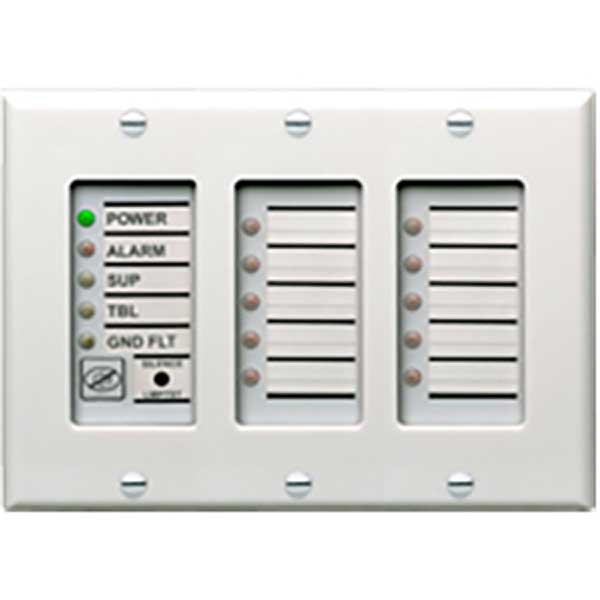 Weight:

0.05 lb

Product Type:

Plate

Refine Search:

Safety Parts & Accessories
FSAT3 Edwards Signaling E-FSC Series Annunciator Trim Plate for E-FSC Control Panel, 3 gang.
Product Description
FSAT3 The Edwards E-FSC fire alarm family consists of 3, 5 and 10 zone conventional fire alarm control panels, an integrated DACT/Dialer, serial annunciator modules, and serial remote relay modules. All of these components are microprocessor-controlled. The E-FSC family is suitable for both new and retrofit installations.
E-FSC Series Panels incorporate features designed to simplify installation, operation and maintenance. These include front panel programming, one person walk testing, and selectable IDC and NAC types. In addition, when used with Edwards CleanMe® -compatible smoke detectors, E-FSC provides analog type features such as remote maintenance alert and automatic drift compensation that reduces false alarms and simplifies maintenance calls.
E-FSC502 and E-FSC1004 panels support Class A operation by combining pairs of on-board initiating circuits (IDCs) or notification circuits (NACs) to provide the necessary Class A circuits.
FEATURES & SPECS
Available in 3, 5, and 10 IDC models
IDC or NAC pairs convertible to single Class A circuits (10 and 5 IDC panels only)
Combination Waterflow and Supervisory IDCs reduces wire and zone counts
NACs programmable by zone and individually selectable for Genesis, continuous, temporal outputs, or coded
Front panel programmable
Optional fully integrated DACT/Dialer for remote PC programming
Genesis option allows precision synchronization and audible silence over two wires without additional modules
On-board relays for Alarm, Supervisory, and Trouble
Optional serial bus relay modules are programmable for common or zone activation
Optional serial bus remote annunciator family
Expandable power supply on 10 IDC panel
Trim ring available for semi-flush mounting
Supports 2M, "SC", 2400, 500, and 700 series detectors
Operating temperature range