Digital Fiber Sensor w/Cable Set
Digital Fiber Sensor w/Cable Set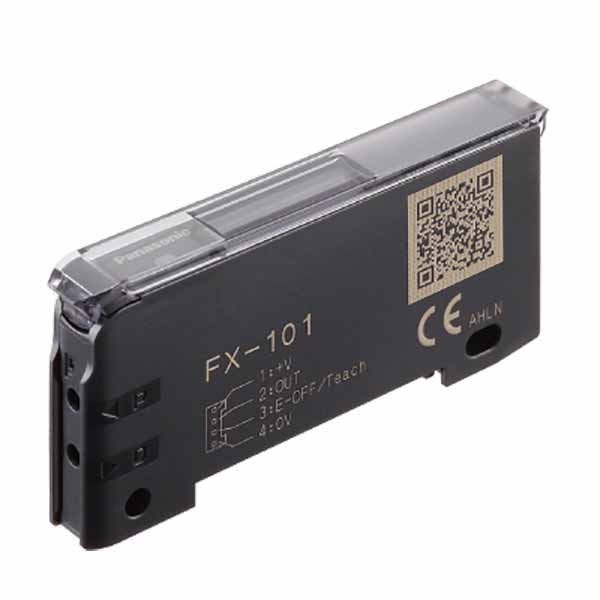 Product Type:

Fiber Sensor

Manufacturer:

Panasonic

Refine Search:

Sensor Parts & Accessories

Housing Material:

Polycarbonate

Input Voltage:

12-24VDC

Max. Operating Temperature:

131 F

Min. Operating Temperature:

14 F

Output Mode:

NPN

Response Time:

250 micro s or less
FX-101-CC2 Panasonic Digital Fiber Sensor w/Cable Set, LED indicator, 12-24 VDC, NPN output, Polycarbonate housing, 250 micro s or less response time, 14 to 131 F deg op temp.
Product Description
FX-101-CC2 The
FX-100 Series digital fiber optic sensor's
ultra-slim design features a 9mm width and integrated mounting holes for installation in any application. The four chemical, visible red LED used for the emitter ensures long life operation and high-powered sensing. This sensor incorporates a dual digital display for simple setup, along with automatic push-button teaching and external input capabilities. Advanced functions including threshold tracking, timers, LED attenuation, and interference prevention allow the FX-100 to compete with fiber optic units that are twice its price. The connection options for the FX-100 series consist of an industry standard M8 quick disconnect along with an option that utilizes the same quick connect cable found in the Panasonic (formerly Sunx) DP-100 and PM series.
FEATURES
Low cost, dual display fiber amplifiers are perfect for basic fiber applications
Simple set-up and confirmation with dual digital display
Space saving design with a width of only 9mm
Stable light intensity with 4 chemical LED design
Dimension Drawing