HRCV-S-5-S Parker Porter High Resolution Control Valves
HRCV-S-5-S Parker Porter High Resolution Control Valves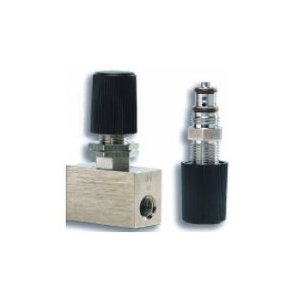 Manufacturer:

Parker Porter

Connection Configuration:

Straight
Parker Porter High Resolution Control Valves, 316 SS body, 316 SS valve pin, 316 SS valve pin holder, Viton 0-Rings, 316 SS w/ Fluorosint® liner.
Product Description
Porter metering valves are designed for extremely precise control in low flow gas and liquid applications. They are available as valve cartridges, integrally mounted in flowmeters and in-line valve assemblies with straight or angle patterned bodies. All in-line valve assemblies have 1/8'' female NPT inlet and outlet ports.
High Resolution Control Valves
The HR Series High Resolution Control Valves contain unique design features that make them the ultimate choice for precise low flow control.
Spring loaded, non rising adjustment stem with 56-pitch thread provides smooth, non-reversing flow characteristics and 15-turn resolution.
Non-rotating stainless steel valve pin with precision ground flat gives exact control.
Valve pin o-ring guarentees positive shut-off without stem damage.
Self-lubricating orifice liner assures long life
Seven available needle tapers expand valve capacity
Dimension Drawing