Parker Veriflo Pressure Regulator
Parker Veriflo Pressure Regulator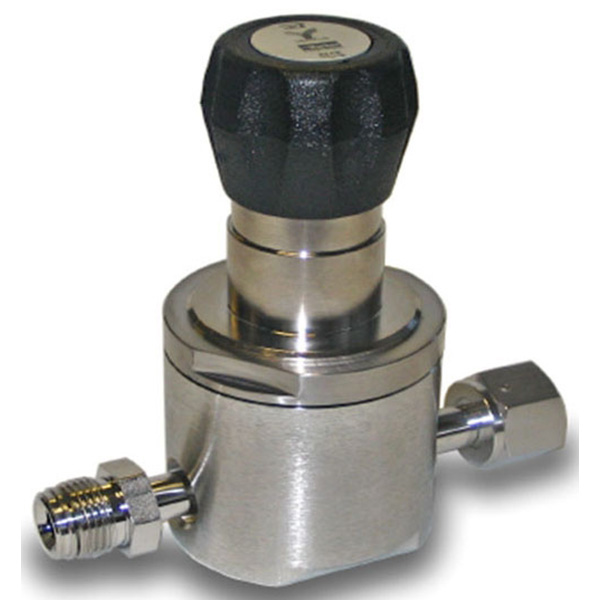 Refine Search:

Industrial

Product Type:

High Pressure Regulator

Manufacturer:

Parker Veriflo

Product Family:

HF1200 Series

Adjustment Type:

Knob

Body Material:

316L Stainless Steel

Diaphragm Material:

C-22 Hastelloy

End Connection:

Female Threaded

Outlet Pressure:

0 to 60 PSIG

Port Size:

1/2 in.

Pressure Gauge Included:

Yes

Size:

2.74 in. Diam. x 5.93 in. H

Spring Material:

316L Stainless Steel

Temperature Rating:

-40 to 150 Deg F

Type:

1-Stage, High Flow, Non-Tied Diaphragm, High Sensitivity, 3-Port
HF1200SK3POL8 Parker Veriflo, HF1200 Pressure Regulator, 1/2", FPT, 5 to 50 PSIG, 316L Stainless Steel, PCTFE Seat, Knob, 1-Stage, High Flow, Non-Tied Diaphragm, High Sensitivity, 3-Port, Pressure Regulator with 0 to 60 PSIG Pressure Gauge.
Product Description
Pressure Regulator; Type 1-Stage, High Flow, Non-Tied Diaphragm, High Sensitivity, 3-Port; Adjustment Type knob; Port Size 1/2 Inch; End Connection Female Threaded; Size 2.74 Inch Diameter x 5.93 Inch Height; Pressure Gauge Included Yes; Body Material 316L Stainless Steel; Diaphragm Material C-22 Hastelloy; Spring Material 316L Stainless Steel; Outlet Pressure 0 to 60 PSIG; Temperature Rating -40 to 150 Deg F; Flow Capacity 1.2 Cv; Pressure Rating 3750 PSI (Burst), 1875 PSI (Proof), 5 to 50 PSIG (Basic); Leak Rate Bubble Tight (Internal/External); Seat Material PCTFE,
FEATURES
High Inlet Pressure with 1.2 Cv to Meet a Variety of Applications; Hastelloy C-22® Diaphragm for High Corrosion Resistance; HFT Offers a Tied Diaphragm for Positive Shut-Off; Large Convoluted Diaphragm Provides Stable Pressure Control; Seat Material Selection for Media Compatibility; 59% Greater Effective Diaphragm Area Over Competitive Products
Series/Model Information
Parker's HF1200 and HFT1200 offering combines high flow capability with high inlet pressure (up to 1,250 psig), resulting in reduced regulator inventories. For hazardous gas applications, the HFT model's tied diaphragm ensures positive shutoff. Both regulators feature a large, convoluted Hastelloy C-22® diaphragm that delivers stable control over their operating ranges.