Fairchild Hydraulic High Pressure Regulator
HPH152NNR Fairchild Hydraulic High Pressure Regulator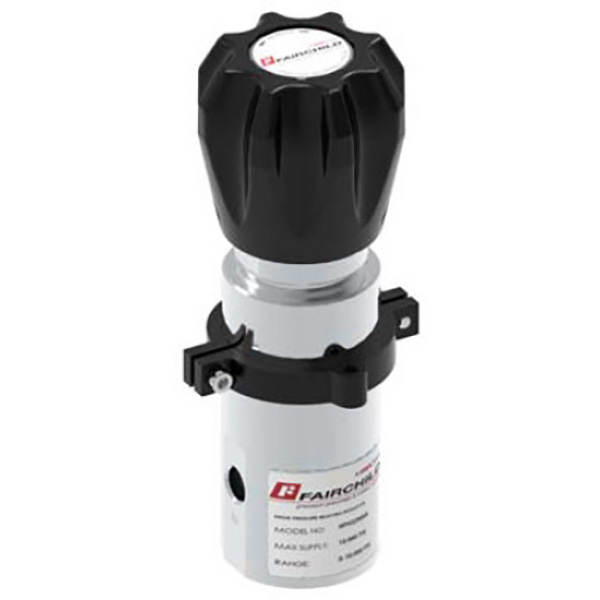 Product Type:

High Pressure Regulator

Adjustment Type:

Knob

Body Material:

316 Stainless Steel

Diaphragm Material:

Nitrile

End Connection:

NPTF Threaded x NPTF Threaded

Filter Rating:

40 µm

Inlet Pressure:

10000 PSIG

Mounting Hole Diameter:

(2) M6

Outlet Pressure:

0 to 5000 PSIG

Port Size:

1/4 in-18 TPI x 1/4 in-18 TPI

Size:

3.5 in. W x 8.1 in. H

Temperature Rating:

-40 to 176 Deg F (Ambient)

Refine Search:

Industrial
HPH152NNR Fairchild Hydraulic High Pressure Regulator, 1/4"-18 NPTF Port, 0 to 5000 PSIG, 316 Stainless Steel, Nitrile Diaphragm, Knob Adjustment, Cartridge Style, Relieving, Hydraulic High Pressure Regulator with MP35N Seat.
Product Description
Hydraulic High Pressure Regulator; Type Cartridge Style, Relieving; Adjustment Type Knob; Port Size 1/4 Inch-18 TPI x 1/4 Inch-18 TPI; End Connection NPTF Threaded x NPTF Threaded; Size 3.5 Inch Width x 8.1 Inch Height; Filter Rating 40 Micron; Mounting Hole Diameter (2) M6; Body Material 316 Stainless Steel; Diaphragm Material Nitrile; Inlet Pressure 10000 PSIG; Outlet Pressure 0 to 5000 PSIG; Temperature Rating -40 to 176 Deg F (Ambient); Flow Coefficient 0.09 (Main Valve), 0.11 (Vent Valve); Leakage 0.05 Drop per Minute (Main Valve); Includes MP35N Supply and Vent Seat, Zirconia Oxide Ceramic Ball Supply Valve, PTFE Backup Ring, 316 and 17-4PH Stainless Steel Internal Component; Application Wellhead Control Panel, Topside and Subsea Valve Actuation, Component Testing, Hydraulic Power Unit
FEATURES
Cartridge Style Service Insert Allows Quick in Line Repair; NACE Compatible Design; High Impact Knob; Ceramic (Zirconia) Main Valve for Severe Service Application; Piston-Sensed Design Ensures Safety and Reliability; Segregated Captured Vent for Control of Relief Media
Series/Model Info
Rotork Fairchild's High Pressure Hydraulic - Pressure Reducing Regulator is suitable for 10,000 psig / 690 bar inlet and outlet hydraulic and pneumatic applications. Tapped exhaust port allows for convenient capture of vented media. Age hardened stainless steel allow seat (MP35N) provides a unique combination of ultra high strength, toughness and outstanding corrosion resistance. Zirconia oxide ceramic ball provides high strength and excellent wear resistance to provide reliable, long-lasting unit even the most harsh applications.
Dimension Drawing