Fairchild Products Pneumatic High Pressure Regulator
HPP122NASTKRNS Fairchild Products Pneumatic High Pressure Regulator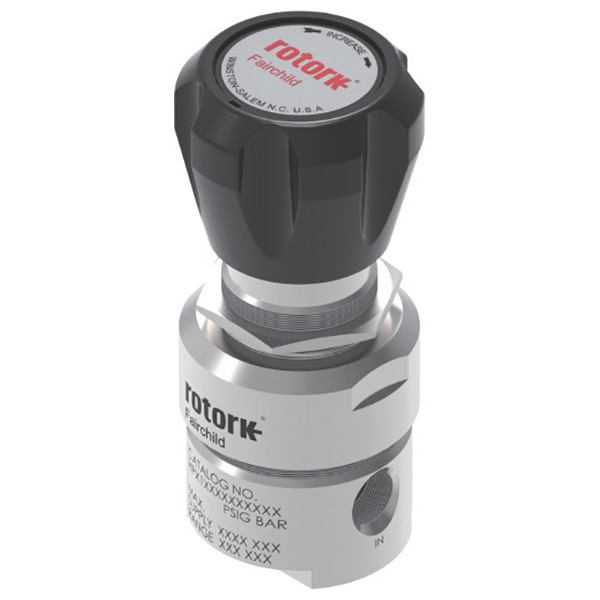 Product Type:

High Pressure Regulator

Adjustment Type:

Knob

Body Material:

Passivated 316L Stainless Steel Alloy

End Connection:

NPTF Threaded x NPTF Threaded

Filter Rating:

20 µm

Inlet Pressure:

3500 PSIG at 175 Deg F

Outlet Pressure:

0 to 1000 PSI

Port Size:

1/4 in x 1/4 in

Seal Material:

Viton A

Size:

2-1/4 in. Diam. x 5-3/8 in. H

Spring Material:

316 Stainless Steel Music Wire

Temperature Rating:

-40 to 500 Deg F (Ambient)

Refine Search:

Pneumatic
HPP122NASTKRNS Fairchild Pneumatic Precision High Pressure Regulator, 1/4" NPTF Port, 0 to 1000 PSI, Passivated 316L Stainless Steel Alloy, Knob Adjustment, 2-Port, Piston Style, Relieving, Pneumatic Precision High Pressure Regulator with CTFE Seat and Straight Exhaust Vent.
Product Description
Pneumatic Precision High Pressure Regulator; Type 2-Port, Piston Style, Relieving; Adjustment Type Knob; Port Size 1/4 Inch x 1/4 Inch; End Connection NPTF Threaded x NPTF Threaded; Size 2-1/4 Inch Diameter x 5-3/8 Inch Height; Filter Rating 20 Micron; Body Material Passivated 316L Stainless Steel Alloy; Seal Material Viton A; Spring Material 316 Stainless Steel Music Wire; Inlet Pressure 3500 PSIG at 175 Deg F; Outlet Pressure 0 to 1000 PSI; Temperature Rating -40 to 500 Deg F (Ambient); Flow Coefficient 0.06 (Supply Valve), 0.02 (Exhaust Valve); Supply Pressure Effect 2 PSIG; Includes 316L Stainless Steel Valve, CTFE Seat, Straight Exhaust Vent; Applicable Standard UL, ISO 9001
FEATURES
The Fairchild HPP Series Pressure Regulator is a Precision Engineered, Diaphragm Sensing, Pressure Reducing Regulator Designed to Regulate Pressure of Speciality Gases and Liquids; This Single Stage, Low to Medium Flow Capacity Pressure Regulator will Fullfil Pressure Control Requirements in Analytical, Medical and Laboratory Instrumentation; The 316 Stainless Steel Construction and Engineered Polymer Seals Permit the Use of Both Corrossive and Non-Corrosive Media; Offers a Variety of Choices for Compatibility and Temperature Ranges; Allows for More Through Put of Gas
Series/Model Info
The Rotork Fairchild HPP is a High Pressure Regulator designed for applications that have high supply pressures and require a much lower output pressure. The HPP pressure regulator is constructed of rugged 316L Stainless Steel for corrosion resistance and durability. The HPP is available in a 2 or 4 port configuration. The Fairchild HPP pressure regulator will handle a 6000 psi, 414 BAR, maximum supply pressure and offers four (3) output pressure ranges from 0-1000 psi, 0-68.9 BAR, 0-6,890 kPa, up to 0-3000 psi, 0-206.8 BAR, 0-20,680 kPa. The HPP high pressure regulator also offers a supply valve Cv of 0.06. The Rotork Fairchild HPD incorporates a new patented valve and valve seat to prevent leakage, which commonly occurs with high supply pressures.
Dimension Drawing