Lenze Modular Frequency Inverter
I55AE222B1A011004S Lenze Modular Frequency Inverter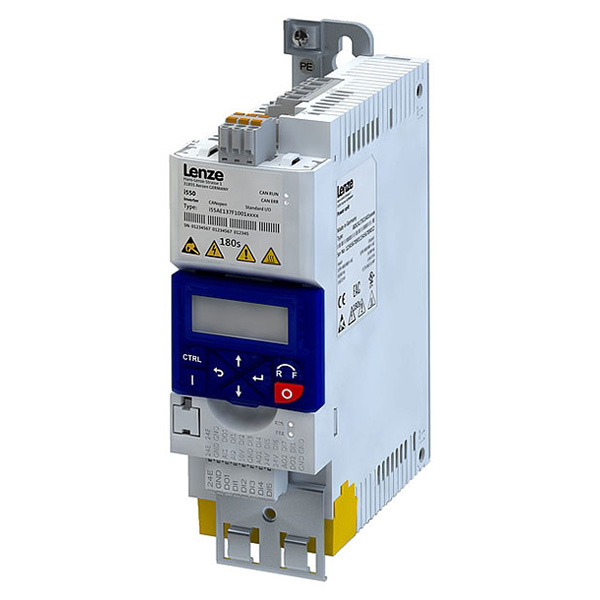 Approval:

CE, CSA (Canada and US), EAC, UL (Canada and US)

Constant Torque HP:

3

Constant Torque KW:

2.2

Enclosure:

IP20

Input Voltage:

170 to 264 VAC 45 to 65 Hertz 1-Ph

Output Voltage:

230/240 VAC 60 Hertz 1-Ph

Product Family:

I550 Series

Product Type:

Modular Frequency Inverter

Size:

60 mm W x 130 mm D x 250 mm H
Lenze AC Tech I550 Series Modular Frequency Inverter, 170 to 264 VAC 45 to 65 Hz 1-Phase Input, 230/240 VAC 60 Hz 1-Phase Output, 9.6 A, 2.2 kW, IP20, Standard I/O with PROFIBUS, Control Cabinet Mount, Modular Frequency Inverter with Integrated RFI/EMC Filter and Basic STO Module.
Product Description
Modular Frequency Inverter; Type AC; Input Voltage 170 to 264 Volt AC 45 to 65 Hertz 1-Phase; Output Voltage 230/240 Volt AC 60 Hertz 1-Phase; Constant Torque HP 3; Constant Torque KW 2.2; Enclosure IP20; Size 60 Millimeter Width x 130 Millimeter Depth x 250 Millimeter Height; Approval UL (Canada and US), CSA (Canada and US), CE, EAC; Output Current Rating 9.6 Amp; Mounting Type Control Cabinet; Control Unit Standard I/O with PROFIBUS Fieldbus; Includes Integrated RFI Filter and EMC Filter, Basic Safety Torque Off Module; Product Generation 1; Application Pump, Fan, Conveyor, Former, Winder, Traveling Drive, Tool and Hoist Drive; Applicable Standard EN 50598-2, RoHS
Features/Benefits
All Typical Motor Control Types of Modern Inverters; Cyclic and Continuous Operation of the Motor According to Common Operating Modes; Industry Standard Networking Opportunities; High Internal Functional Range; Sensorless Vector Control; Energy Saving Function; Servo Control with Feedback; Sensorless Vector Control for Synchronous Motors; Vector Control with Feedback; Voltage/Frequency Characteristic Control with Feedback; DC Braking; Brake Management for Low Wear Brake Control; Dynamic Braking Through Brake Resistance; S-Ramps for Smooth Acceleration and Delay, Flying Restart Circuit, PID Controller; RoHS Compliant
Model/Series Information
The modular system enables various product configurations depending on machine requirements. Extensions, such as a plug-on keypad or plug-on WLAN module, simplify commissioning and diagnostics. Thus, the parameters can be set conveniently via a smartphone app using the WLAN module.