Edwards Signaling Dual Tone Air Horn
Edwards Signaling Dual Tone Air Horn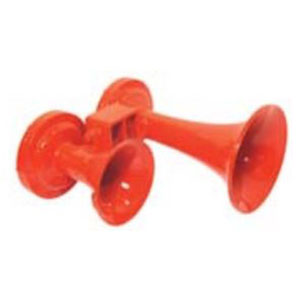 Refine Search:

Audible Signals

Manufacturer:

Edwards Signaling

Product Family:

KB Series

Product Type:

Horns

Unit Type:

Audio

Weight:

11.45 lb
K-25 Edwards Signaling KB Series Dual Tone Air Horn, high strength aluminum body and projector, stainless steel diaphragm, suitable for indoor/outdoor/hazardous applications, 370/622Hz frequency, 115dB at 100 ft, air consumption 1 cubic feet/second.
Product Description
K-25 The KB series generate sound by means of a vibrating diaphragm that modulates the flow of compressed air into a resonating projector. All horn shapes are mathematically calculated to amplify sound while closely retaining its fundamental frequency and natural harmonics.
These horns are suitable for indoor/outdoor applications and for hazardous location use. Volume is adjustable by regulating air pressure.
Designed for mounting on air supply piping, supplying between 50 and 150 PSIG (3.5 and 10.5 kg/sq cm).