Neles (Metso) Valvcon LADC-Series Electric Actuator Universal Power 2000 in-lb
LADCWX2000UL3-UP Neles (Metso) Valvcon LADC-Series Electric Actuator Universal Power 2000 in-lb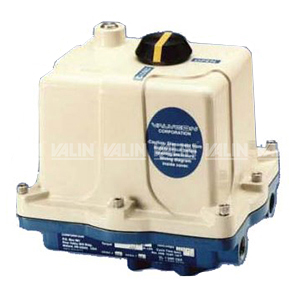 Product Type:

Electric Actuator
Neles (Metso) Valvcon LADC-Series Electric Actuator, Universal Power, 2000 lb-in Torque, On/Off Positioner Board with Battery Back-up Option. Weathertight/Explosionproof (NEMA 4/4X/7&9) Ex d IIB T6 GB Enclosure, -40 to 130 F Deg Temperature Range.
Product Description
Features
Universal Input Power – Actuator accepts 24/115/230AC and 12/24DC
Universal Control – On/Off or Modulating from the same package
Included Heater/Thermostat Feature – Can be enabled for "low-temp" use,"humidity control" use, or disabled to reduce power consumption.
Optional internal battery packs allow for continued operation during power outages, provided the control signal remains.
Field-settable for "fail clockwise" or "fail counter-clockwise", or "fail" to a mid-travel position.
CSA (C US) Certification and CE Compliance
Proven technology provides optional battery back-up capabilities within the standard size actuator enclosures
Dual conduit openings make wiring easier, and keep power and control wiring separate.
Replacement battery for units equipped with battery back-up is commercially available (it is recommended that the battery is replaced every two years).
Two year warranty.