Patlite LKEH Series 100mm LED Signal Tower & Voice Synthesizer
LKEH-102FVUL-B Patlite LKEH Series 100mm LED Signal Tower & Voice Synthesizer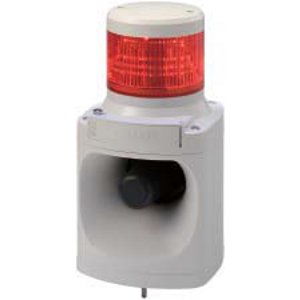 Channels:

4 Channels

Decibels:

105 dB

Lighting Option:

Continuous

Protection:

IP53

Sound Options:

Voice Synthesizer

Tiers:

1

Refine Search:

Audible & Visible Signals

Product Type:

Signal Towers/Annunciators
Patlite LKEH Series 100mm LED Signal Tower & Voice Synthesizer, 1 tier: Blue, 32 alarm sounds, 24V DC, 105 dB at 1m, field programmable with SD card Part No. SDV-2GP available for purchase, UL Standard, IP53, NPN open-collector.
Product Description
The LKEH Series offers a field-programmable Hybrid Signal Tower with audible alarm.
Features:
The pre-recorded type offers 32 sounds in one unit with 8 bit input and 32 binary input channel capability.
The message capacity for the LKEH-FV is 63 seconds (64kbit/s) with 5 bit input and 31 binary input channel capability.
The LKEH-FV is field-programmable with an SD Card (sold separately).
A 2G vibration resistant design allows safe use in a high-vibration environment.
One common wire makes it easy to control both the audio and LED inputs.
Volume is adjustable from 0 to 105dB (at 1m) to fit various environments.
Dimension Drawing