Walchem LKN Series Metering Pump 114.3GPH 45psig PVC
LKN57E-VS Walchem LKN Series Metering Pump 114.3GPH 45psig PVC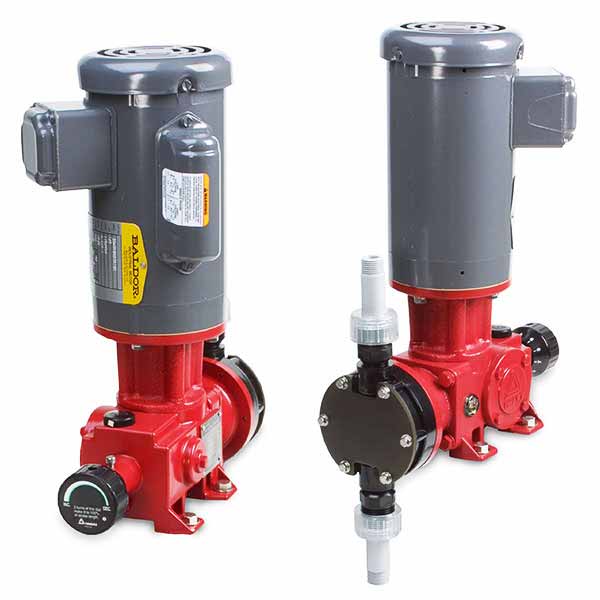 Product Type:

Motor-Driven Metering Pump

Diaphragm:

PTFE/EPDM

Gasket:

PTFE

Max. Output Capacity:

114.3 GPH

Max. Pressure:

45 psig

Pump Head:

PVC

Valve Seat:

304SS
Walchem LKN Series Metering Pump, motor-driven pump with NEMA 42C motor mounting flange, 114.3GPH @ 45psig max, PVC head/fittings, PTFE/EPDM dia, HC/304SS ball, 304SS seat, PTFE gasket, 1.0 FPT, 180/DC, 1 Ph, 1/3 HP, 1750 RPM, TENV variable speed motor, 230V control. Use L5VS-PK parts kit.
Browse All LKN Series Products
Product Description
The LK Series metering pump is the largest in the high performance line of pumps from Walchem. The LK is a motor-driven, mechanically actuated diaphragm metering pump with a maximum capacity of 114 GPH (432 l/h) and a maximum pressure of 225 PSI (1.5 MPa). The heart of the LK is a compact and very reliable dual-cam system drive and worm gear reducer. Roller bearings and oil bath lubrication ensure outstanding durability and wear resistance in continuous operation. The LK Series is ideal for chemical feed applications in a wide range of fields, including water treatment, chemical process, agriculture, mining and paper.
Dimension Drawing