Edwards Signaling Double-Action Pull Station
MPSR2-S45W-GE Edwards Signaling Double-Action Pull Station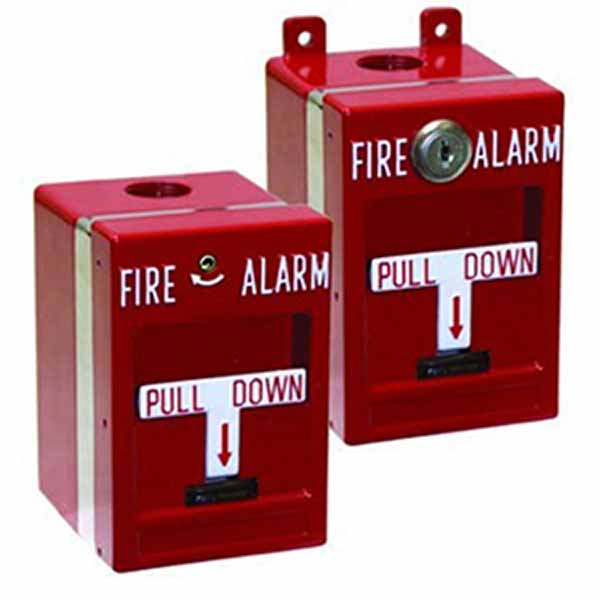 Operating Temperature:

-30 to 150° F

Operating Voltage:

120VAC

Weight:

2.4 lb

Refine Search:

Fire Safety

Product Type:

Pull Stations
MPSR2-S45W-GE Edwards Signaling MPSR Series Double-Action Pull Station, 120VAC 10A op voltage, double-pole, double throw, terminal block connection, -30 to 150 F operating temp,14 to 18 AWG wire size.
Product Description
MPSR2-S45W-GE Edwards MPSR Series manual pull stations are non-coded fire alarm stations constructed of die-cast material. All components are pre-painted or have plated surfaces to inhibit corrosion. MPSR Series manual stations are suitable for outdoor use and feature a NEMA 4X enclosure.
Single-and double-action MPSR models are available with either single-pole (normally open) or double-pole (double throw) alarm contacts. Dependent on the model, access to the unit for resetting purposes is gained with either a keylock or hex screw. All models feature terminal block connections and 10 amp contacts.
Explosionproof MPSR Series manual stations are rated for Class I, Group B (hydrogen), C and D; Class II, Groups E, F and G; and Class III environments.
FEATURES AND SPECIFICATIONS
Solid corrosion-resistant construction
Surface mount backbox and gasket, suitable for outdoor use, included
Positive activation
Terminals for wire connections
NEMA 4X enclosure
Operating temperature range