Barksdale Pressure Switch
P1H-B85SS-T-P2 Barksdale Pressure Switch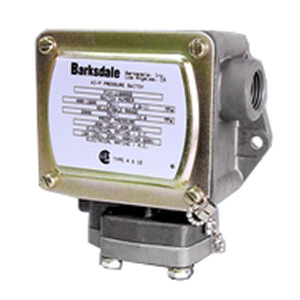 Product Type:

Pressure Switch

Application:

Air Proving in HVAC System, Engine Monitoring, Irrigation System, Machine Tool and General Industrial, Pump and Compressor Monitoring

Approval:

CSA, PED

Enclosure Material:

Anodized Aluminum

Operating Pressure Rating:

3 to 85 PSI

Operator Type:

Non-Stick Diaphragm

Connection Type:

1/4 in. Female Threaded

Contact Configuration:

SPDT

Contact Rating:

10 A @ 125/250/480 VAC, 2 A @ 600 VAC, 0.05 A @ 125 VDC, 0.03 A @ 250 VDC

Enclosure:

NEMA 4/13
Barksdale P1H Series Pressure Switch, 1/4" FPT, 125/250/480/600 VAC/125/250 VDC, 10/2/0.05/0.03 A, 3 to 85 PSI, SPDT, NEMA 4/13, Non-Stick Diaphragm, Single Circuit, Snap-Action, Pressure Switch.
Product Description
Pressure Switch; Type Single Circuit, Snap-Action; Operator Type Non-Stick Diaphragm; Operating Pressure Rating 3 to 85 PSI; Contact Configuration SPDT; Contact Rating 10 Amp at 125/250/480 Volt AC, 2 Amp at 600 Volt AC, 0.05 Amp at 125 Volt DC, 0.03 Amp at 250 Volt DC; Connection Type 1/4 Inch Female Threaded; Enclosure NEMA 4/13; Enclosure Material Anodized Aluminum; Application Pump and Compressor Monitoring, Air proving in HVAC System, Irrigation System, Engine Monitoring, Machine Tool and General Industrial; Approval CSA, PED; Accuracy +/-2 Percent; Electrical Connection Internal Screw Terminal 1/2 Inch Male Threaded Conduit Connector; Pressure Fitting 1/2 Inch Male Threaded Stainless Steel; Temperature Rating -20 to 165 Deg F (Operating), -40 to 200 Deg F (Storage)
Features/Benefits
Superior resolution; High reliability; Oil & dust tight; Extremely versatile; High reliability
Series Information
Barksdale's P1H Series Pressure Switches offer extremely long life and the accuracy you need for your industrial applications. Designed with Dia-Seal Piston technology, the P1H Series Pressure Switches ensure millions of maintenance free, leakage free cycles. A rugged, NEMA 4 enclosure makes these pressure switches an ideal choice for both indoor and outdoor installations.