Fairchild Pneumatic Pressure Regulator
PAX1F41D10-10233NND Fairchild Pneumatic Pressure Regulator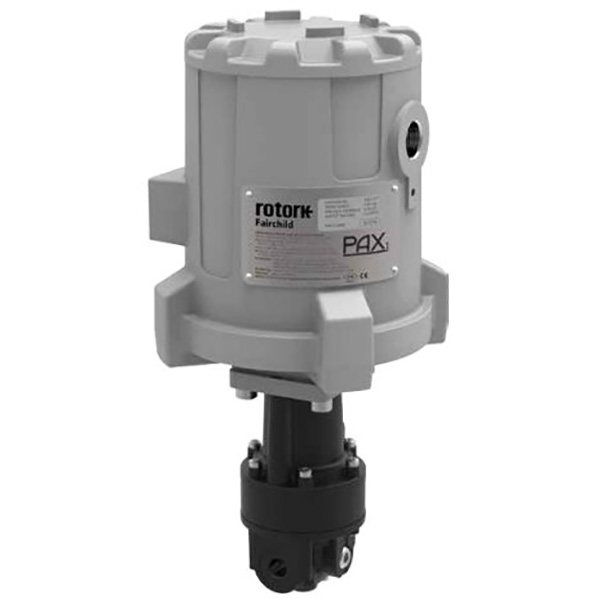 Product Type:

Motorized Regulator

Elastomer:

Nitrile

Port Size:

3/8 FPT

Pressure Range:

0.5-30 psi

Relief Valve:

Relieving, No Bleed

Refine Search:

Pneumatic
Fairchild Model 10 Pneumatic Precision Pressure Regulator, 3/8"-18 NPTF Port, 0.5 to 30 PSIG, Aluminum, Nitrile Diaphragm, Relieving, No Bleed, Pneumatic Precision Pressure Regulator with PAX1 1/2" Analog Feedback Linear Actuator.
Product Description
Pneumatic Precision Pressure Regulator; Type Relieving, No Bleed; Port Size 3/8 Inch-18 TPI x 3/8 Inch-18 TPI; End Connection NPTF Threaded x NPTF Threaded; Size 6.93 Inch Diameter x 13.71 Inch Height; Mounting Hole Diameter (2) M8; Body Material Aluminum; Diaphragm Material Nitrile; Air Consumption 40 SCFM at 100 PSI (Flow), 5.5 SCFM (Exhaust); Inlet Pressure 500 PSIG; Outlet Pressure 0.5 to 30 PSIG; Temperature Rating -40 to 176 Deg F (Actuator); Regulator Size 3 Inch Diameter x 6-1/2 Inch Height; Gauge Port Size 1/4 Inch-18 NPTF Threaded; Supply Pressure Effect 0.1 PSIG; Sensitivity 0.125 Inch WC; Includes Model PAX1 1 Watt (Standby) 18 Watt (Peak) 11 to 30 Volt DC 2890 Newton Force 25 Millimeter Stroke 1/2 Inch Conduit 4 to 20 Milliamp Analog Feedback Linear Actuator, Brass/Zinc Plated Steel Trim, (2) SPDT Alarm Relay; Application Natural Gas Pipeline/Distribution System, Pilot Operated Regulator System, Plunger Lift System; Approval FM
Features/Benefits
Control Sensitivity of 1/8 Inch Water Column allows Use in Precision Process; Pressure Balanced Supply Valve Prevents Supply Pressure Changes from Affecting the Set Point; Separate Control Chamber Isolates the Diaphragm from the Main Flow to Eliminate Hunting and Buzzing; An Aspirator Tube Compensates Downstream Pressure Droop Under Flow Condition; Permits Backflow of Downstream Pressure; Facilitates the Handling of Harsh Media
Model Information
The Fairchild Model 10 is a precision pressure regulator designed for applications that require high performance and accurate process control. Stability of regulated pressure is maintained under varying flow conditions through the use of an aspirator tube which adjusts the supply valve in accordance with the flow velocity. The Model 10 features control sensitivity of 1/8" water column and a balanced supply valve to deliver consistent and reliable precision accuracy to maintain your desired set point regardless of supply pressure changes or conditions. Fairchild Manufacturers a complete line of precision pneumatic Regulators including positive pressure, back pressure and vacuum models. Quality intelligence and manufacturing excellence assures that our pressure regulators meet all the requirements of a precision device. Our large selection of pressure ranges and flow capacities lets you select the model that models that meet your needs for instrument of general industrial control applications. Rotork Fairchild's all new PAX1 Series Linear Actuator can be used alone or it can be paired with a variety of Fairchild time proven pressure regulators enabling remote control of the pneumatic pressure.
Dimension Drawing