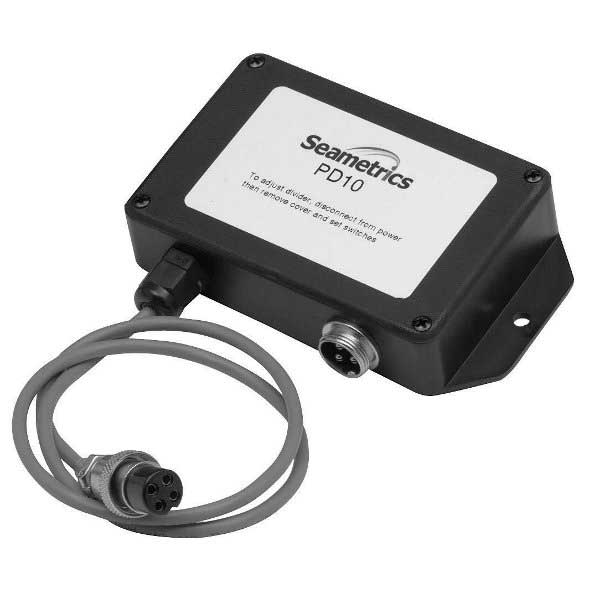 Seametrics PD10W Pulse Divider, Wall Mount, 7 - 30 Vdc @ 4 mA, 20 mA
Product Description
Dimension Drawing
Designed for use as a meter accessory, the PD10 divider is used primarily for pacing electronic metering pumps. Any number from one to 9999 can be set on four decade rotary switches. Each time the divider has received the set number of pulses from the meter, it puts out one pulse to stroke the pump. The PD10 is also useful in boiler and cooling tower feed and bleed operations, and for lowering frequency output of high frequency meters. Compatible with all Seametrics flow meters, the PD10 creates a programmable pulse meter with an easily adjustable pulse rate.
The PD10 comes in two different housings: an enclosure that can be mounted near the pump (PD10W), and a watertight housing factory mounted on the specific Seametrics insertion type IP-Series Paddlewheel, EX-Series Magmeter or TX-Series Turbine meter you need. Please see the sensor pages for specific model numbers or give us a call.
Power for the PD10 can be supplied by the metering pump if the pump has a sensor power supply. This is the case with LMI externally-paced metering pumps. Some pumps require an external power supply, available from Seametrics.
Features
Easily adjustable rotary switches
Mates with LMI and other common metering pumps
Flexible relay contact output
Applications
Pace electronic metering pumps
Boiler/cooling tower feed and bleed
Lower frequency output of high frequency meters