PG2-L-4-1000 Parker Pressure Gauge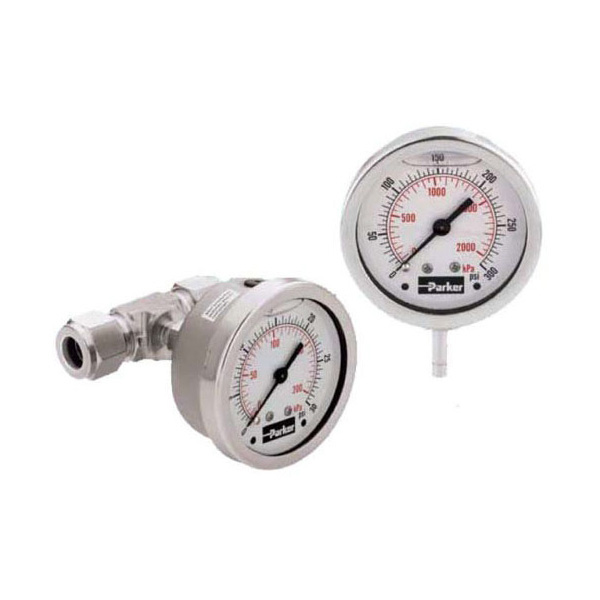 Dial Size:

2-1/2"

Connection Location:

Back

Filled:

Glycerin

Application:

Industrial, Pressure Tank, Process Line, Test Panel

Dial Material:

Aluminum

Enclosure Material:

304 Stainless Steel

Enclosure Rating:

IP65

End Connection:

1/4 in. A-LOK Tube Stub

Full-Scale Accuracy:

1.5 Percent

Max. Pressure:

1000 PSI/kPa

Min. Pressure:

0 PSI/kPa

Mounting Type:

Lower

Pointer Color:

Black

Pointer Material:

Anodized Aluminum

Sensor Element:

316 Stainless Steel Bourdon Tube

Temperature Rating:

14 to 150 Deg F
Parker Instrumentation TEG Series Pressure Gauge, 0 to 1000 PSI/kPa, 1/4" Lower A-LOK Tube Stub, 2-1/2" Aluminum Dial, 1.5% Accuracy, Glycerin Filler, 304 Stainless Steel Case, Pressure Gauge.
Product Description
Pressure Gauge; Minimum Pressure 0 PSI/kPa; Maximum Pressure 1000 PSI/kPa; Mounting Type Lower; Enclosure IP65; Enclosure Material 304 Stainless Steel; End Connection 1/4 Inch A-LOK Tube Stub; Connection Location Back; Sensor Element 316 Stainless Steel Bourdon Tube; Dial Diameter 2-1/2 Inch; Dial Material Aluminum; Pointer Material Anodized Aluminum; Pointer Color Black; Filler Material Glycerin; Temperature Rating 14 to 150 Deg F; Full Scale Accuracy 1.5 Percent; Application Process Line, Test Panel, Pressure Tank, Industrial; Material Polycarbonate (Lens), 316 Stainless Steel (Block/Socket), Neoprene (Gasket)
Features/Benefits
Eliminates Gauge Positioning Problems in Systems with an NPT Connection; Including Workarounds, Damage Due to Over-Tightening and Leaks from Under-Made Connections; Reduces Connections for Fewer Potential Leak Paths and Faster Installation; Allows for Easy 360 Degree Gauge Positioning and Reduces Installation Costs; Compact Design Saves Space; Eliminates Pipe Tape and Other Sealants/Contaminants
Series Information
Parker's TEG Series, Tube Ended Pressure Gauges really take the pressure off when mating to a piping or tubing system with an NPT connection. The compact design speeds installation, eliminating "work-arounds," as well as over-or under-tightened connections. Parker Tube Ended Pressure Gauges monitor vacuum, compound, and positive system pressures up to 1000 psig. Available in lower mount and center back mount configurations, these 360°gauges are positionable and perfect for applications where space is at a premium. Not only do our Tube Ended Gauges do away with additional fittings; they eliminate the need for tape and sealants, making installation cleaner and quicker.
Additional Product Information
Pressure Gauge; Minimum Pressure 0 PSI/kPa; Maximum Pressure 1000 PSI/kPa; Mounting Type Lower; Enclosure IP65; Enclosure Material 304 Stainless Steel; End Connection 1/4 Inch A-LOK Tube Stub; Connection Location Back; Sensor Element 316 Stainless Steel Bourdon Tube; Dial Diameter 2-1/2 Inch; Dial Material Aluminum; Pointer Material Anodized Aluminum; Pointer Color Black; Filler Material Glycerin; Temperature Rating 14 to 150 Deg F; Full Scale Accuracy 1.5 Percent; Application Process Line, Test Panel, Pressure Tank, Industrial; Material Polycarbonate (Lens), 316 Stainless Steel (Block/Socket), Neoprene (Gasket)